Last weekend was National Hockey Card Day here in Canada! For all of you who aren't familiar with NHCD, for hockey card collectors, it's better than Christmas! Free hockey cards and big sales at sports card shops!
I haven't opened too many boxes lately, so I knew I couldn't pass up an opportunity to stock up on some higher end hockey card boxes, so I started with my own personal favourite hockey card set! My first NHCD video was on a box of 2018-19 Upper Deck Ice! I love the look of acetate hockey cards and in the 2018-19 season, there are big Elias Pettersson hits in them! The big hit out of this set is the Pettersson Ice Premieres Rookie Card that's serial numbered out of /99, not to mention the potential for Elias Pettersson autographs and jersey cards! These boxes were on sale, so I had to go for this!
Here's the video link, please subscribe to my YouTube channel at Shaun's Collectibles!
I got a pretty good hit in this box! An ultra rare gold insert card!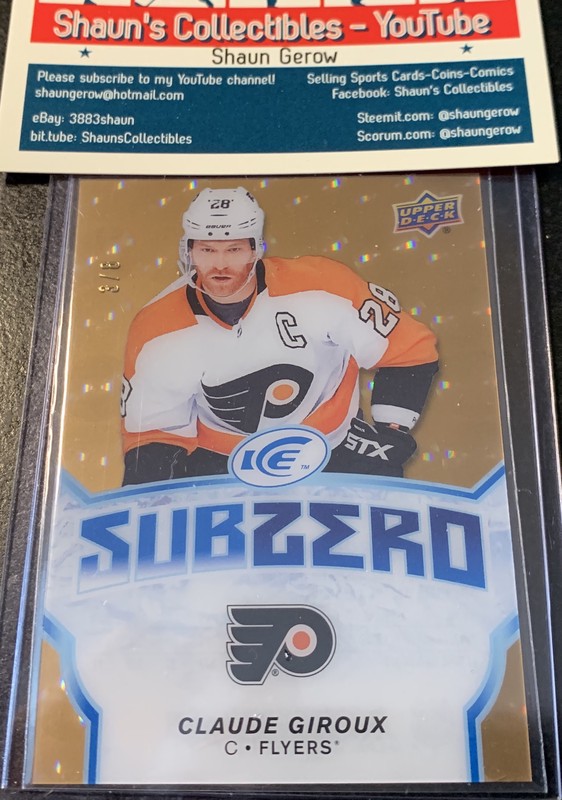 I just put this card in to be graded a couple days ago! Let's hope I get a great grade! This card is quite rare and if I get a good grade, I'm certain it'll increase the value! It'll definitely go on eBay eventually!
Please check back soon for my next National Hockey Card Day box break video!
Contact me for buying and trading here, or through the following ways!
eBay: 3883shaun
YouTube: Shaun's Collectibles
Facebook: Shaun's Collectibles
Minds: ShaunsCollectibles
Bittube: ShaunsCollectibles
Reddit: shaunscollectibles
Instagram: shaunscollectibles
Steemit: shaungerow
Scorum: shaungerow
LinkedIn: Shaun Gerow
Happy Collecting! 😃