It's your favourite hockey card box breaker here with another Scorum blog and YouTube video!
I did something on National Hockey Card Day that I haven't done in years. I bought an actual full tin of a regular Upper Deck box. The price was good, and there's a chance of getting a Quinn Hughes Young Guns Rookie, so I figured why not?
Here's the video link, please subscribe to my YouTube channel at Shaun's Collectibles!
I opened this up and I realized why I don't buy Upper Deck tins and boxes any more.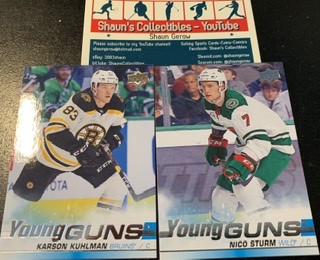 I got a really lousy tin. I can remember buying regular Upper Deck boxes and tins years ago and I usually hated the bang for my bucks that I got out of them. I'm just going to keep buying boxes that have guaranteed autographs in them. At least then, my personal collection will grow.
I have a couple more boxes of Upper Deck Ice! Stay tuned for videos and Scorum blogs of those boxes!
Don't me for buying and trading here, or through the following ways:
eBay: 3883shaun
YouTube: Shaun's Collectibles
Facebook: Shaun's Collectibles
Minds: ShaunsCollectibles
Bittube: ShaunsCollectibles
Instagram: shaunscollectibles
Reddit: shaunscollectibles
Steemit: shaungerow
Scorum: shaungerow
LinkedIn: Shaun Gerow
Happy Collecting! 🙂