I walked into my my local Walmart and found something different while trying to look for hockey cards this past weekend! It was a deck box called Championship Collection and it contained 3 packs of hockey cards along with 20 random hockey cards along with the deck box they're all contained in! I usually have pretty horrible luck with random Walmart Championship Collection boxes, but since this was only listed at around $10, I figured I'd take a chance and roll the dice on it!
Here's the video link! Please subscribe to my YouTube channel at Shaun's Collectibles!
I didn't get anything huge, but I got a Connor McDavid hit!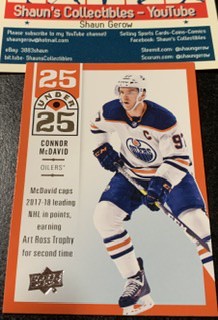 It's definitely not a rare hit, but at least it was something! I've opened up a good amount of these random style Walmart boxes and not gotten a thing. Getting a Connor McDavid lower end hit is the best lower end hit I can possibly hit. It'll go on eBay soon.
We're coming up to the biggest weekend of the year for hockey card collectors like myself! Hockey Day In Canada! Big sales and giveaways! I'm bound to have a big Scorum blog this weekend! Let's hope for a big hit! 😃
Contact me for buying and trading here, or through the following ways:
eBay: 3883shaun
YouTube: Shaun's Collectibles
Facebook: Shaun's Collectibles
Bittube: ShaunsCollectibles
Minds: ShaunsCollectibles
Reddit: shaunscollectibles
Instagram: shaunscollectibles
LinkedIn: Shaun Gerow
Steemit.com: shaungerow
Scorum.com: shaungerow
Happy Collecting! 😁