A few years ago, I got two different Dylan Larkin 2015-16 Upper Deck Ice Glacial Graphs redemption cards. I got fed up with waiting for them (you can go way back into my old 2015-16 Upper Deck Ice box break videos and see me get those two redemptions yourself) and I already have an autographed patch rookie for Dylan Larkin in my personal collection, so I contacted Upper Deck and asked for replacement cards for those two redemptions!
Here's the video link, please subscribe to my YouTube channel at Shaun's Collectibles!
Upper Deck usually doesn't disappoint on redemption replacements and this time was no different!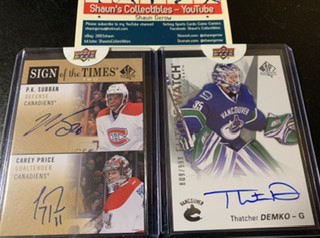 The dual autograph Sign Of The Times of Subban and Price was fantastic! The Demko is great, too! The Demko is going I to my personal collection! I think I may look into getting the Subban/Price card graded! I think it's time to go to my local sports card store to find out this weekend!
Thank you to Upper Deck for the great replacement cards!
Please check back soon for another Hockey Card Pack Break video and blog from Shaun's Collectibles!
Contact me for buying and trading here, or through the following ways:
eBay: 3883shaun
YouTube: Shaun's Collectibles
Facebook: Shaun's Collectibles
Minds: ShaunsCollectibles
Bittube: ShaunsCollectibles
Reddit: shaunscollectibles
Instagram: shaunscollectibles
Steemit: shaungerow
Scorum: shaungerow
Happy Collecting! 😀