I just keep going after big Connor McDavid hits with the markup Upper Deck has been putting on their products recently. Whenever I'm around a Walmart, I look and see what they have for hockey cards. I found more 2015-16 Upper Deck Series One. Unfortunately, I got the wrong Connor McDavid Rookie Card.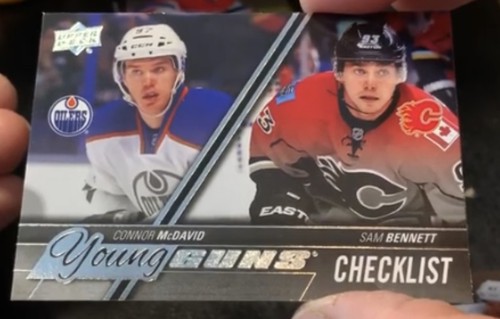 The difference between a true Connor McDavid Rookie and the checklist card with Connor McDavid on it is over $250. 😩
Here's the video for this break! Please smash the like button, subscribe, and click the notification bell to see future videos!
This break was a definite disappointment, but I'm going to keep an eye on my local Walmarts as the summer goes by!
I have a new idea for a project where I'm going to be trying to do a new video daily!
Stay tuned!
If you'd like to buy/sell/trade, you can contact me here on Scorum, or through the following ways:
eBay: 3883shaun
YouTube: Shaun's Collectibles
Facebook: Shaun's Collectibles
Bittube: ShaunsCollectibles
Minds: ShaunsCollectibles
Steemit.com: @shaungerow
Scorum: @shaungerow
Happy collecting!