Let's all take a break from pandemic paradise and watch me- Shaun, your favourite hockey card pack breaker open up some hockey cards!
Walmart has been getting much more creative with how they sell hockey cards. I heard about a new box for around $15 CDN they have here at Canadian Walmarts called the Rookie Mystery Box. It has 4 packs in it and a guaranteed rookie card in it. It seemed like a good deal. A while back I risked the crowds and this crappy pandemic to see what they had in stock at my local Walmart and they literally had one Rookie Mystery Box in stock so I scooped it up!
Here's the video link! Please subscribe to my YouTube channel at Shaun's Collectibles!
My guaranteed rookie card was a bit of a bomb, but I managed to get this Young Guns rookie card in a pack!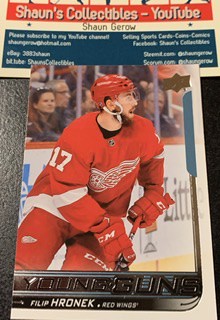 This box wasn't great, but for $15 plus taxes, I can understand why collectors like these boxes. It won't break your wallet and you have a guarantee of getting at least one rookie card with it, maybe even a second or even a third if you get some luck in your unopened packs. I'm not sure if I'll buy more of them if I see them, but I know these will sell quickly when they're in stock.
I have another Walmart box break video I'm going to post soon! Stay tuned!
Contact me for buying and trading here, or through the following ways:
eBay: 3883shaun
YouTube: Shaun's Collectibles
Facebook: Shaun's Collectibles
Minds: ShaunsCollectibles
Bittube: ShaunsCollectibles
Instagram: shaunscollectibles
Reddit: shaunscollectibles
LinkedIn: Shaun Gerow
Steemit: shaungerow
Scorum: shaungerow
Happy Collecting! 🙂