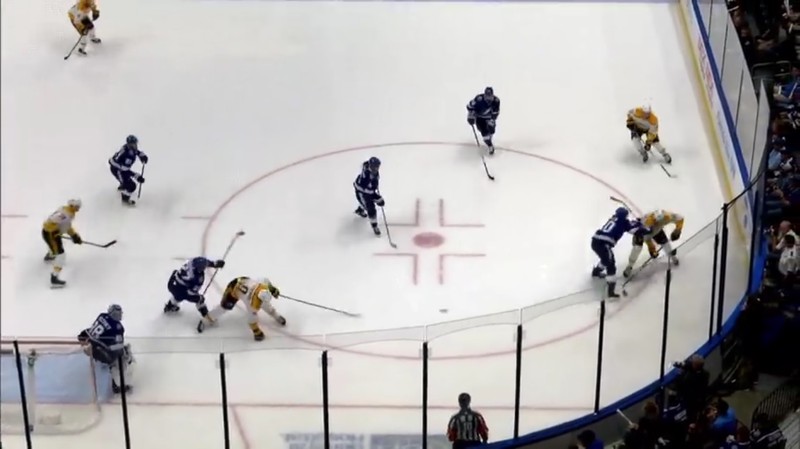 Ryan Ellis' reaction says it all. You don't need a lip-reading expert to tell you that Predators defenseman shouted simple "wow!" at his namesake, just after Ryan Johansen's fantastic no-look backhand pass reached Roman Josi who scored to give the Predators 2-0 lead over Tampa Bay Lightning last night.
Lightning coach Jon Cooper suggested afterwards that it was the key moment in the game his team lost 4-1. "It was some breakdown in our coverage. And good teams make you pay for lapses" - he told the media.
"It was pretty unreal" - said Pekka Rinne. "There were some beauties tonight" - added Peter Laviolette. "Just hockey... that's just playing" - said... well, Ryan Johansen himself. He later added another highlight-reel assist on 2-on-1 breakaway, this time finding Calle Jarnkrok after bypassing diving Anton Stralman but that second pass was overshadowed by the "wow-assist" we'll be surely talking about as one of the best this season, come April.
But Johansen deserves all the praise not only for making his assists going viral. Last night he won 17 of 23 faceoffs and was the only Predators player with a positive Corsi, what's especially impressive, since Lightning won shot attempts stat 66-41. 26-year-old center is Predators' king of assists this season, with his 13 being the second best number in the NHL, only behind Mikko Rantanen but he's joint-first in primary assists.
"There are no easy ones for him. The two assists that he made tonight were just incredible vision, incredible skill level" - said Laviolette after the game. In others words... "wow!"