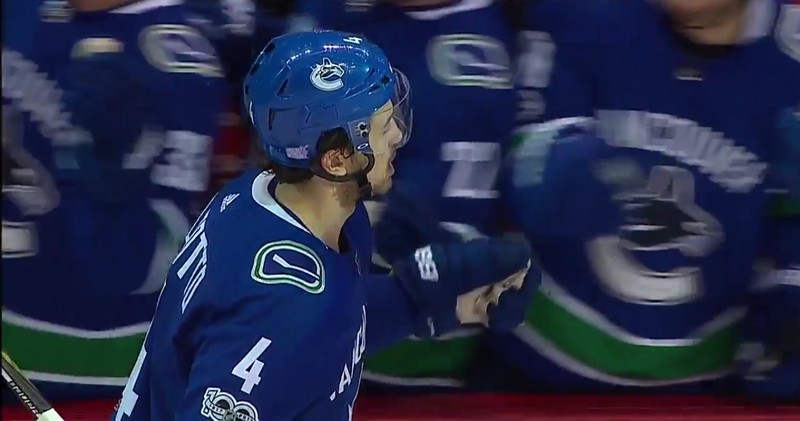 He was not chosen one of the game's three stars, but Michael Del Zotto's performance in last night's Vancouver Canucks 4-2 win over Chicago Blackhawks was quite something to behold.
28-year-old Stouffville, ON native has received his fair share of criticism this season for the lacklustre play and spent much time as a healthy scratch for Vancouver Canucks, but he's now back in the lineup (mostly due to an injury crisis in the team) and last night delivered quite unique performance. In a way at least. He was a bit hidden in the shadow of Jake Virtanen's first NHL two-goal game and Brendan Gaunce's two points, including GWG season debut, but he made his presence felt. Literally.
Del Zotto finished the game with 11 hits. Yes, you've read it right. Eleven. It's the most hits in a game by any player this season. And that surely contributed to his and his third pairing partner Alex Biega's plus-11 Corsi scores.
Breaking down this hits number for Del Zotto, he hit six different Blackhawks players, with Luke Johnson being at the receiving end most often - four times. He delivered seven hits in the second period, with three in the span of 42 seconds during one particular shift. To put this numbers into context, no Blackhawks players made more than three hits the whole game and as a team they ended with 12 hits combined. That's one more than Del Zotto alone.
It was only the second time this season a player hit double-digits in hits stat in one game. The first one was Golden Knights' William Carrier in Sunday's game against Senators. Carrier is also league leader in this category with 59 hits in 12 games.
Since NHL started recording hits as a stat category (that is since 1997-98 season), there's been 310 double-digits performances in total. Del Zotto's 11 is the most since Nikita Zadorov delivered astonishing 15 for Avalanche against Kings, March 22 this year. And Russian's 15 hits is the most by any player in the 21st century. However, it's hardly his most pleasant hockey memory, since Avs lost 7-1 and he was -3 that night.

But all-time record (remember, all-time here means since 1997-98) is 17, shared by Zdeno Chara and Gary Roberts - interestingly both from 1999. Roberts set a record on March 11, 1999 while playing for Hurricanes against Penguins, surely not expecting Pens to be his future team at the time. And 22-year-old Chara equalled this number nearly 8 months later in the "Battle of New York" for Islanders against Rangers. He also went on to score a game-tying goal late in the third period and the game ended in a 3-3 tie, what shows how much time has passed.
Most hits in a game since the 1997-98 season:

1. Gary Roberts (CAR) - 17 (1999/03/11 vs PIT)
Zdeno Chara (NYI) - 17 (1999/11/04 vs NYR)
3. Nikita Zadorov (COL) - 15 (2018/03/22 vs LAK)
4. Mark Borowiecki (OTT) - 14 (2016/12/06 vs PIT)
Brendan Witt (WSH) - 14 (1999/11/10 vs TBL)
Matt Martin (NYI) - 14 (2011/03/09 vs TOR)
Brett Festerling (ANA) - 14 (2010/01/01 vs DAL)
Shane Doan (PHX) - 14 (2011/12/04 vs PHI)
9. 17 players with 13 hits