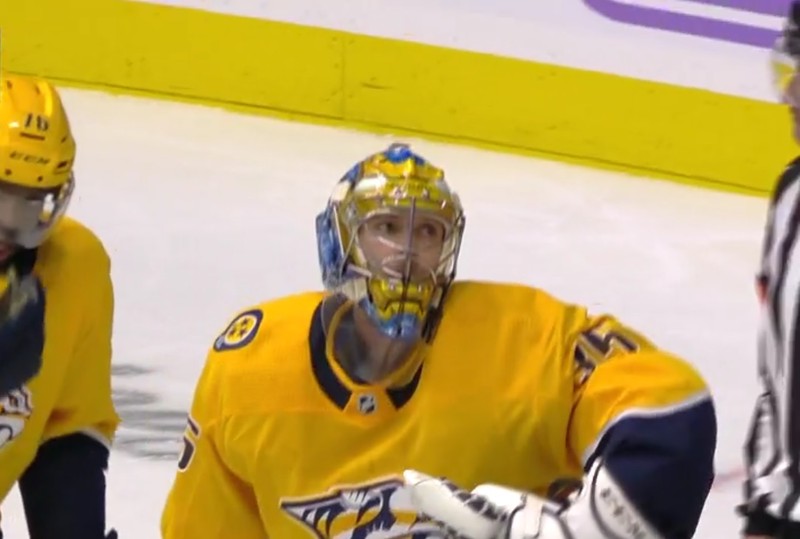 As far as birthdays go, they don't come much better than this, at least when you're a hockey goalie.
Last night Pekka Rinne made 26 saves to get his 53rd NHL shutout and backstopped Nashville Predators to 1-0 win over Boston Bruins, courtesy of Roman Josi's amazing solo effort which proved to be the game-winner and helped to bolster Predators lead at the top of the NHL.

And all this just hours after signing his two-year $10 million contract extension, being hailed by Predators President of Hockey Operations/General Manager David Poile as 'the most impactful player our franchise has ever had'. It was a fitting gift for last year's Vezina Trophy winner who was celebrating his 36th birthday yesterday.
It seems like some kind of a trend for NHL teams to sing their top players on special occasions. My favourite one has been Anaheim Ducks goaltender John Gibson signing the eight-year $51.2 million extension in August exactly on his wedding day, possibly to make sure he'll never forget the date, much to his new wife's delight. One stone, two birds kind of scenario.
But for Pekka Rinne 36th birthday turned to be more like a Groundhog Day. Exactly seven years before, he had found himself in the same situation. It was Nov 3, 2011, his 29th birthday, when he signed a seven-year $49 million deal that is still valid today. Later that day Predators played a road game at Phoenix Coyotes and won 3-0, with Rinne stopping all 35 shots in the process, to get a shutout. (As a sidenote, one year before, on his 28th birthday he was also between the pipes, playing at Coyotes, but Preds lost and Rinne allowed four goals).
Birthday, contract, shutout - someone on Twitter called it "Pekka Rinne hat trick". 'It was pretty similar day. Except it was [seven years ago] on the road, it was in Arizona... I don't know.. there must be something in this. I should sign one-year deals' - said Finnish goalie after last night's game.
Bad news for the team, the player himself and Nashville fans is there's probably not so long before Rinne hangs his skates for good. Maybe it's his last deal, maybe there will be one (two?) one-year contract more. This or that, not many chances for another Groundhog Birthday before the Fin(n)ish.