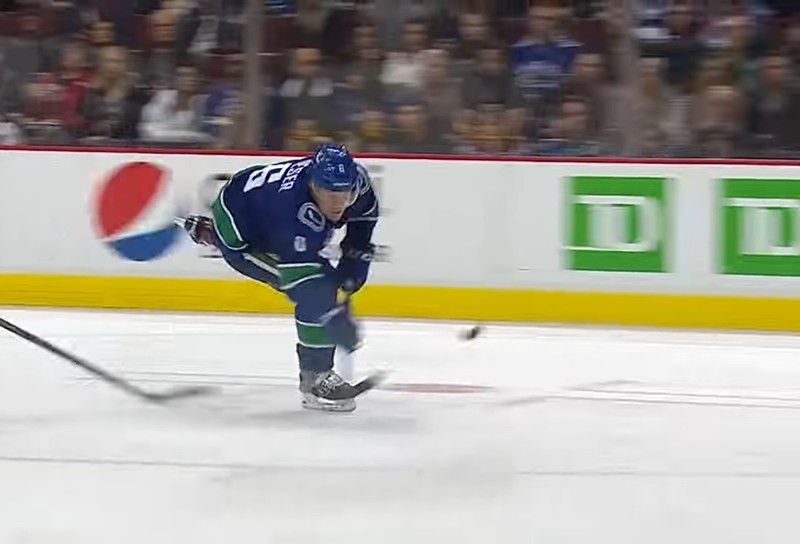 They don't share their last name. They're not brothers, let alone twins. They don't even come from the same country. Their names are Brock and Elias, but someone who was watching them last night might have thought Daniel and Henrik are back on the ice in their best form.
It seemed like Vancouver Canucks and Colorado Avalanche have rolled back the years with their old-school gung-ho 7-6 shootout perfectly recapped in bwar's post here. Maybe to the 80's. And maybe to the days when by saying 'Canucks' you mainly meant 'Sedins'.
Elias Pettersson scored two goals and assisted three times and Brock Boeser added another two goals with two assists. They assisted each other on all four goals, showing nearly telepathic understanding, you could think only twins are capable of. Pettersson became the first teenager in Canucks' history to score five points in a game.
And then, there was that goal. That most 'Sedin-like' moment of them all. In the second period, Pettersson banked the puck off the boards from the neutral zone, to put it on a plate for Boeser who beat Philipp Grubauer.
If you still don't find similarities, just watch this video. We've merged Pettersson-Boeser's goal with the one Sedins scored (yes, together) against Detroit Red Wings in 2013.
Now, it's still a long way for Pettersson and Boeser to become Sedins, or maybe - to become Pettersson and Boeser as good as Sedins with all their accomplishments, but signs here are encouraging for the Canucks' fans to say the least.
Elias Pettersson came to the NHL after totally dominating the SHL in his native Sweden, the second best European hockey league (and if Chinese and Kazakh teams force you to call KHL Euro-Asian league, then SHL is the best fully European league, but that's just a sidenote). Here's his last season in short. Not bad, for a teenager, right?

Source:
eliteprospects.com
And now, after only one month in the NHL, he has blown away any suggestions, that it'll be tough for him to adjust to the more physical play in North America or different rink size. He's now Canucks' top scorer and while there are still early days in the season, he seems to be a safe bet for the prize, probably only injury prevented Brock Boeser from winning last year - Calder Trophy.
Sundsvall native has 15 points and no other rookie has more than 8. He has scored 9 goals, more than doubling second best rookie goal-scorer Maxime Lajoie's amount (4). And all this, despite missing six games due to a concussion. Canucks are top of the Pacific Division. Yes, they still have their defensive issues, especially with Alexander Edler and Chris Tanev out with injuries, there is a sense of excitement around this team. And while it lasts, their fans can ask themselves 'how Swede is that?'