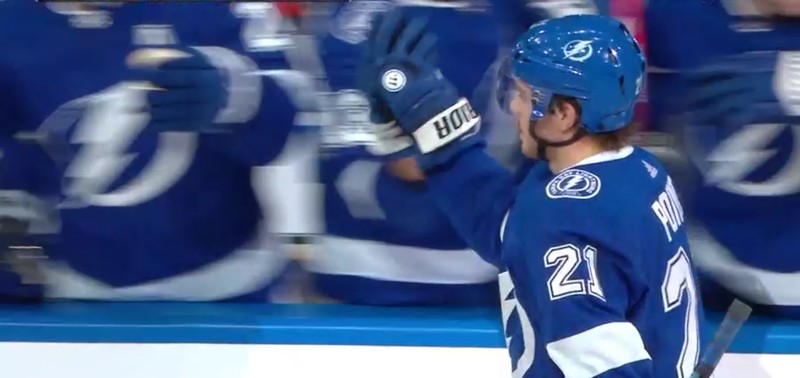 When the Tampa Bay Lightning's first line is on fire, they are tough to handle. But if Bolts' two top lines are hot, it's nearly impossible to stop them. As the Edmonton Oilers learned the hard way last night.
Nikita Kucherov scored two goals and had an assist and his first line mate Steven Stamkos added one goal plus two assists to lead the team past Oilers and straight to the top of the league standings. Those two always seem to get their due credit and rightly so. Just look at this give and go to score the first goal en route to a 5-2 win last night.
But sometimes in the shadow are left those two second line guys. Yanni Gourde and Brayden Point had 1+1 night both to continue their success that doesn't seem to get plaudits it deserves, even though it epitomizes Lightning's great depth.

Take Sunday night against the Ottawa Senators. Kucherov and Stamkos were held without a point and it was Point who scored a game-tying goal in final minute of regulation. Then Jon Cooper went for Gourde and Point in the overtime - a wise move. Point won the face-off and then rushed to the goal, making it possible for Gourde to score on a rebound and win the game for Bolts.
And for all their skills and accomplishments, neither Kucherov nor Stamkos is the right answer to the trivia question 'Who's the Lightning's leading scorer?" It's Brayden Point. Yeah, that guy with his $686,667 cap hit, once dubbed too small to have an impact at the NHL level, has 19 points - more than any other Lightning player. And his salary (I mean the cap hit here) is also a factor that contributed to him rising last night to the top of the NHL in cost per point (point, not Point) stat, surpassing current NHL's leading scorer Mikko Rantanen.
As things stand, every Point's point this season costs his team $36,140, compared to Rantanen's $37,257. Obviously, these average costs will fall down over time with more points amassed. And obviously, Point will earn much more next year with a new deal since his entry level contract expires at the end of this season and even though he has RFA status with no arbitration rights, a big raise awaits.
Gourde has this re-signing process behind him, signing a six-year extension worth $31 million last week and he was probably given priority, due to his UFA status, as opposed to Point. Pretty nice raise for an undrafted guy, playing in the ECHL and making $75 a week only a few years ago.
After last night's game Oilers coach Todd McLellan said that Point and Gourde 'grind it out'. Yes, maybe they're not as flashy and brilliant as Kucherov and Stamkos can be. Maybe they score 'uglier' and 'dirtier' goals. But maybe there is also no better expression to use regarding their way to the place they both find themselves in right now.