We're now 28 games into the Chicago Blackhawks schedule and things are looking pretty bleak, to put it nicely. The Hawks are currently sitting at 6th place in the Central Division (+2 points ahead of the last place St. Louis Blues) with a record of 9-14-5, leaving fans with a bad taste in their mouths.
This is an unusual place for a Blackhakws fan to be. What was once called a dynasty is now looking like a shell of what it used to be. Joel Quennville, was fired just over a week ago and Rockford Ice Hogs AHL coach Jeremy Colliton has been called up to take over the head coaching role. What were they thinking when they let go of Q?
Most of the blame for what is happening with the Blackhawks is due almost directly to the decisions of GM Stan Bowman. I would say it's pretty safe to assume the coach Q was fired to cover Bowman's own behind, but that hasn't been working out to well thus far.
Since Colliton has taken over the helm, the Hawks are just 3-6-2 (7 of those losses coming in a row).
For four straight games leading into their match in Winnipeg on Thursday night, the Blackhawks gave up the first two goals, all in the first period and twice in the first minute of play.

That's an example of sorry game-day preparation by the players. Same goes for the coach.
But against the Jets on Thursday night, the Hawks extended the stench to allowing the first goal in every period — every period, do you hear me? — and all came within the first two minutes.
After the game, Colliton tried to talk big and tough about running out of patience after the team's loss to the Jets.
"I'm not new anymore,'' the young rookie coach said after falling to 3-6-2 since taking over a .500 team from the deposed Joel Quenneville. "I've been around here long enough. It's time to react."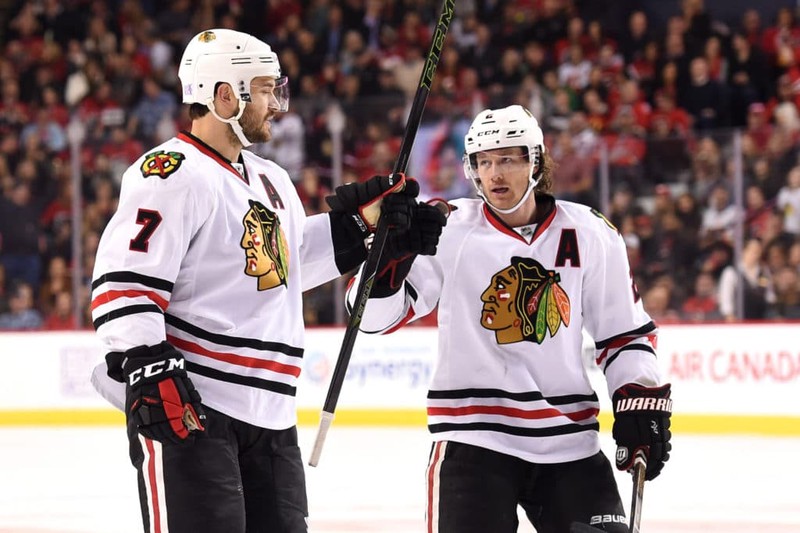 Let's be clear. Colliton isn't the real problem here. He was tossed into an already bad situation with an aging core of players and a roster lacking in 3rd and 4th line depth. But, the REAL problem here is the horse in the room no one wants to talk about. That horse (or horses I should say) are Duncan Keith and Brent Seabrook.
Keith and Seabrook have been disastrous the last 2 seasons. I thought it couldn't get much worse after last year, but boy was I wrong. The two aging defensemen are looking better suited to anchor the Hawks 4th line defensive pair instead of the top 1 or 2 pairings. Even worse, they're both on big contracts that I doubt any team would want to trade for let alone eat it up for some draft picks.
Keith and Seabrook have been fixtures in Chicago for many years now. Both were on all 3 Stanley Cup Championship teams. However, it seems as though father time is starting to take it toll on the both of them.
Seabrook has been playing like a slob. He's slow. He's been turning the puck over far too often and far too easily. As for Keither, he still gives it 100% every night. He still looks like he's playing like himself, but as with Seabrook, he is just behind a step and slow.
It's not looking like this season will be saved at this point. But, you never know honestly. Regardless, the Blackhawks need to make some moves. They should focus on freeing up cap space and going for some prospects.
I have a feeling the Kane, Toews, Keith, Seabrook era is coming to an end. I wouldn't be surprised if we see at least one of them get traded this season. Something needs to happen and it needs to happen quick. Bowman should be removed immediately before he destroys the team anymore.