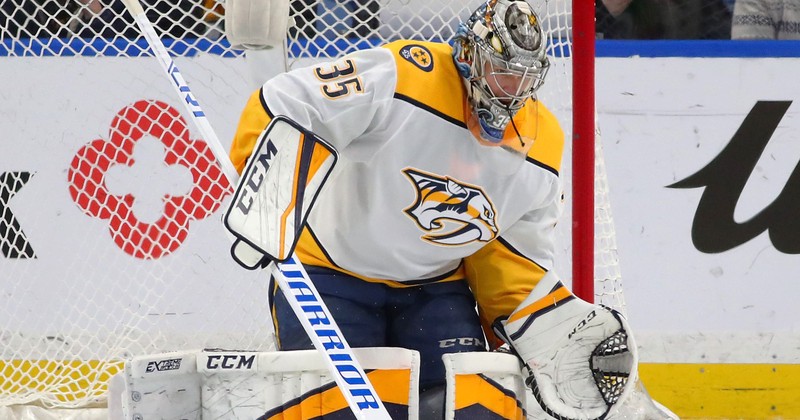 By Zane Miller
The San Jose Sharks defeated the Montreal Canadiens 4-2, Sharks goaltender Aaron Dell took the win with 35 saves on 37 shots.
The New York Islanders defeated the Arizona Coyotes 4-2, Islanders goaltender Semyon Varlamov took the win with 21 saves on 23 shots.
The New York Rangers defeated the Buffalo Sabres 6-2, Rangers goaltender Henrik Lundqvist claimed the win with 31 saves on 33 shots.
The Columbus Blue Jackets defeated the Carolina Hurricanes 4-3 in overtime, Blue Jackets goaltender Joonas Korpisalo took the win with 21 saves on 24 chances.
The St. Louis Blues defeated the Los Angeles Kings 5-2, Blues goaltender Jordan Binnington took the win with 33 saves on 35 shots.
The Nashville Predators defeated the Minnesota Wild 4-0, Predators goaltender Pekka Rinne took the win with 26 saves on 26 shots.
The Philadelphia Flyers defeated the Chicago Blackhawks 4-1, Flyers goaltender Brian Elliott took the win with 23 saves on 24 shots.
The Dallas Stars defeated the Anaheim Ducks 2-1, Stars goaltender Ben Bishop took the win with 29 saves on 30 shots.
The Calgary Flames defeated the Florida Panthers 6-5 in a shootout, Flames goaltender David Rittich took the win with 18 saves on 23 shots.
The Edmonton Oilers defeated the Washington Capitals 4-3 in overtime, Oilers goaltender Mikko Koskinen earned the win with 25 saves on 28 shots.
Winning Goaltenders: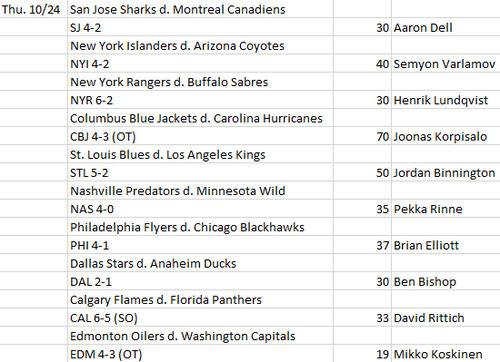 Current Standings:
If you enjoyed this article, please consider becoming a supporter on Patreon! For just $1/month, you can help support articles like these and get great benefits as well: https://patreon.com/Zmiller82
Follow me on Twitter: https://twitter.com/Zmiller_82