Indonesian independence from the invaders has entered its 73rd year.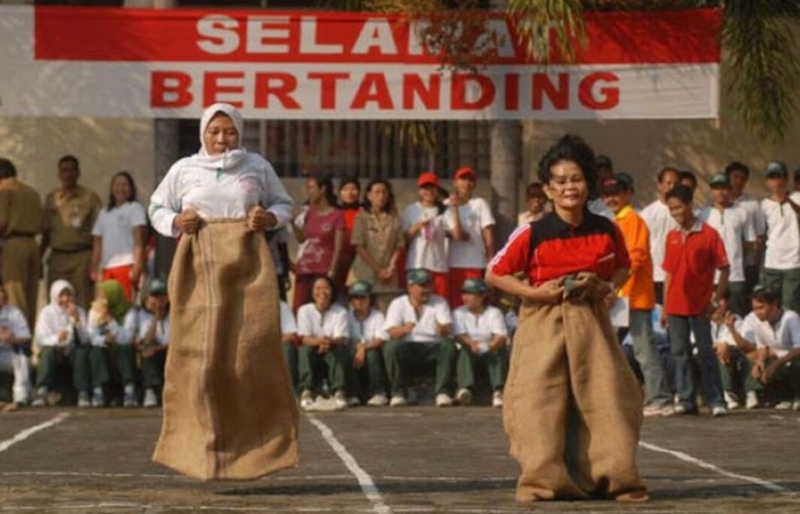 Well, usually from the beginning until after August 17, various celebrations are held every year. Usually by doing flag ceremonies in certain institutions to more popular competitions. Really exciting!

Regarding the competition on August 17, there are usually several competitions which are compulsory in nature and must be available in every social kinship unit such as RT and RW. This race actually contains a philosophy of remembering the services of heroes who were struggling desperately for independence. It's really good, it's the philosophy. Well, specifically to commemorate the August 17 event, various kinds of competitions are also the same as sports.

What race sports are required to take place on the 17th of August?

Tug-of-war competition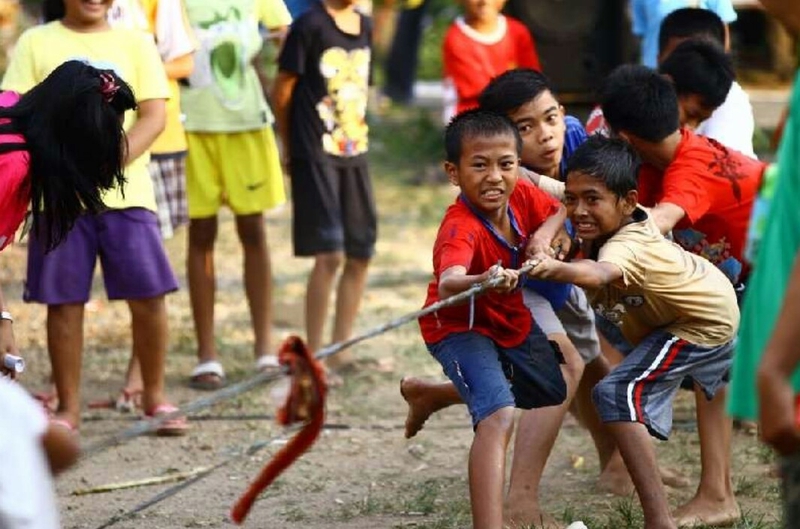 The tug of war competition is almost never absent at every August 17 celebration anywhere, both in the school and in the home environment. This competition can indeed be categorized as an exciting group sport. The problem is, when pulling a mine, many muscles play a role, such as arm muscles, thigh muscles, to the abdominal muscles. That's why, it's no wonder that people who regularly exercise or race are definitely muscular.

Sack race competition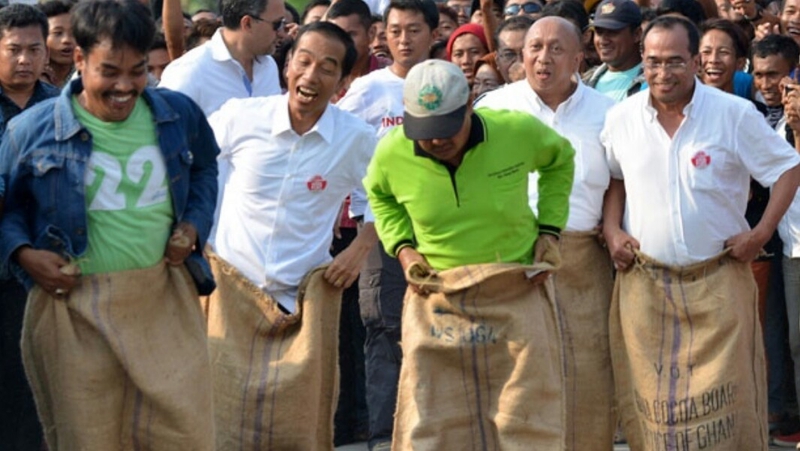 This sport is really exciting. It looks easy, even though when it's done it's quite difficult too, you know. If you are a participant in this sack race, you don't need sports anymore, because sack racing is the same as sports. Jumping as fast as possible also requires high agility. Never mind until first at the finish line, managed to jump to the end just lucky.

Areca climbing competition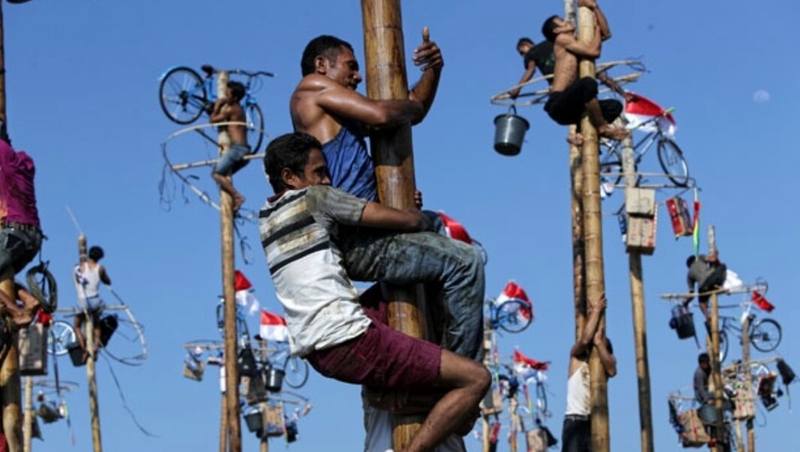 The areca climbing competition is one of the most crowded competitions to watch. It's really exciting, huh. Especially when in the beginning, there must be a lot of slumping. In fact, I have been helped by using a friend's body, but still slippery, the stem has been lubricated. In addition, the number of prizes that are collected at the top of the areca nut are also encouraging.

Football competition using negligee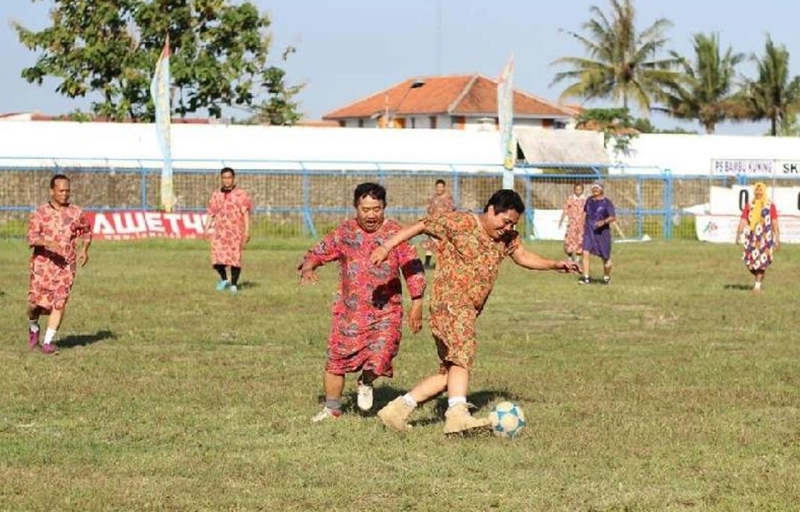 If you look at men playing soccer, it's normal, huh. The problem is that from small football it has become an obligatory game for men. But, what makes it unique here is what is the story if the men play soccer using dress clothes? Wow, surely it will be really complicated, running and running the ball is limited. This competition is also an entertaining one of course. Especially if the men fell because of the negligence of the negligee. Guaranteed to make laughter a village.

The race put nails into the bottle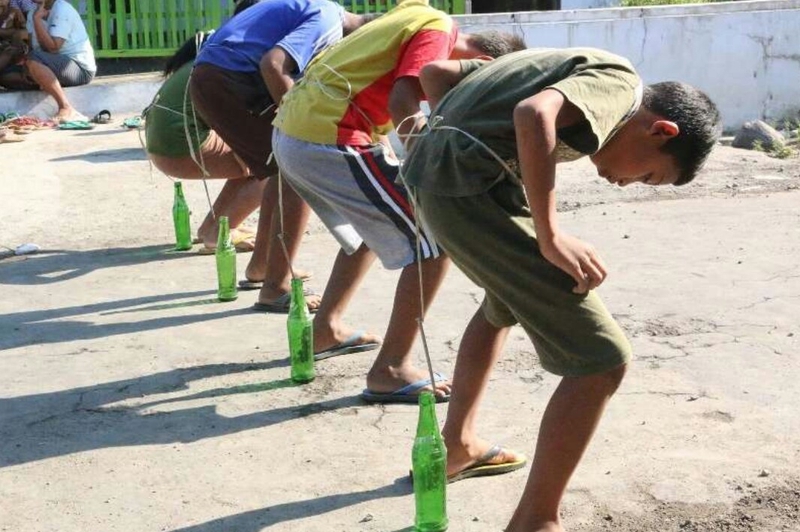 Looks simple, but don't be taken lightly, bro. The reason is, this race is also not less tiring compared to sports. You see, new nails will be able to be put into bottles if the participants use a strong position. Now, the squats often know really how bad they are. All thigh muscles, calves, and fairies will feel fast.

Running race while carrying a wife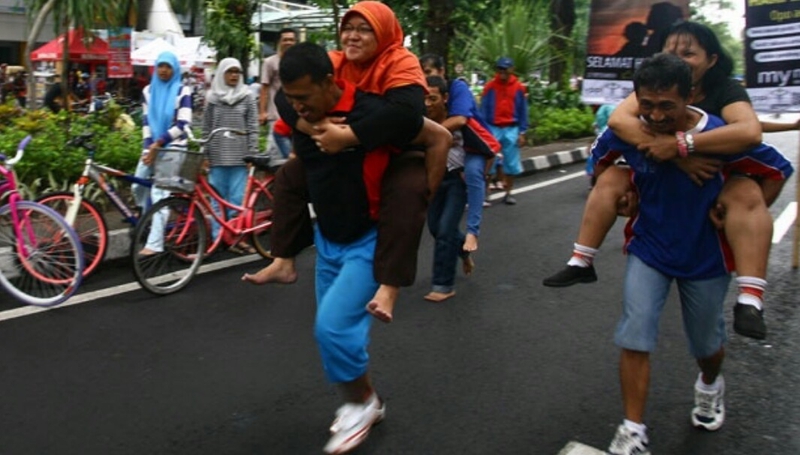 Just running a racing sport has made us tired and struggling, especially if you run while carrying your wife? Already imagine how tired it is right? Yes, if his wife is slim, what if it is loose? Don't imagine. But, this race is guaranteed to be an entertainment for people in the same village.

Cushion or gulling competition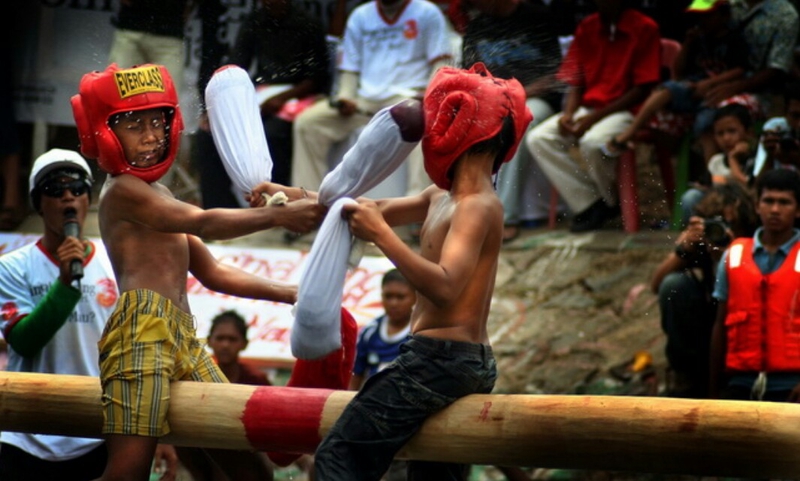 This race can be said to be easy, easy. Who used to be a pillow war in bed? It must have been! Well, the difference is that this cushion pillow race is done on the river. So, we just sit on a fairly small tree trunk. When it's beaten, surely the balance will be disrupted. Especially if the pillow is wet, surely it will be heavier and the hit and the hit will definitely lose the balance.

Those are some of the race sports on Indonesia's independence day on August 17, 2018
Thank you for visiting my blog, may be useful for us all.Do not forget voting, commenting, sharing! Greetings success for you all.
Source:https://www.yukepo.com