Conor Anthony McGregor is an Irish professional mixed martial artist and mma fighter also boxer.

Height 5 ft 9 in (175 cm)
Weight 155 lb (70 kg; 11 st 1 lb)
McGregor started his MMA career in 2008 and, in 2012, he won both the Cage Warriors Featherweight and Lightweight Championships, holding both titles simultaneously before vacating them to sign with the UFC. In 2015, at UFC 194, he defeated José Aldo for the UFC Featherweight Championship via knockout thirteen seconds into the first round, which is the fastest victory in UFC title fight history.Upon defeating Eddie Alvarez for the UFC Lightweight Championship at UFC 205, McGregor became the first fighter in UFC history to hold titles in two weight divisions simultaneously.
McGregor began his professional boxing career in 2017. In his debut boxing match, he was defeated by Floyd Mayweather Jr.
McGregor is the biggest pay-per-view (PPV) draw in MMA history, having headlined four out of the six highest-selling UFC pay-per-view events. His headline bout with Khabib Nurmagomedov at UFC 229 drew 2.4 million PPV buys, the most ever for an MMA event. His boxing match with Mayweather drew 4.3 million PPV buys in North America, the second most in history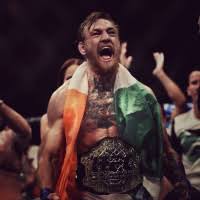 cGregor has sisters named Erin and Aoife. He has been in a relationship with his girlfriend, Dee Devlin, since 2008. Their first child, Conor Jack McGregor Jr., was born on 5 May 2017. McGregor understands Irish and speaks it to a certain extent.

Just ahead of his fight with Mayweather, McGregor announced a fashion brand partnership with custom clothier David August; the brand is named "August McGregor" and is aimed at providing modern men's suits to millennials.August had met McGregor about three years earlier, via UFC president Dana White.
In September 2018, McGregor launched Proper No. Twelve Irish Whiskey in Ireland and the United States. McGregor worked on the whiskey for over three years prior to the launch. The whiskey is named after the Crumlin neighborhood, in Dublin 12, in which McGregor grew up. McGregor is the founder and owner of the company. As of November 2018, the whiskey has sold so well that Tesco Ireland stores has limited customer to two bottles per visit.