As a consumer of Facebook, I usually run into several memes and this week has been around one about a Nigerian player named Emmanuel Emenike, who is giving a lot of talk and getting several smiles.
Emmanuel was considered one of the top Nigerian scorers who played in the Champions League!
Emmanuel just got married! with a beautiful Nigerian girl named Iheoma Nnadi, what a suprise! she was Miss nigeria in 2014, which allowed her to represent her country against girls from all over the world in the Miss Universe pageant.
What is attracting attention has nothing to do with the love shown by the couple, or the beauty of the ceremony, the real reason for the controversy is that Emmanuel's ex-wife, named Ezinne Akudo Anyaoh also Nigerian was Miss Nigeria in the year 2013! We can say that the great Emmanuel, soccer player who currently plays in Las Palmas de España, has an exquisite taste to choose his girlfriends!
It all started when the instagram user @reekadobanks, a singer uploaded this photo in which he alluded to the change of wives so peculiar that this footballer had had.
After becoming viral all over the world, the player responded to the original publication with these words:
> Reekado you have disrespected me and my family at first it was Miss Nigeria 2013 divorced and marry 2014 and this joke is going around the world now, it has become 2017 to 2018 Boy I just want to tell you that I do not bark, i give you today to delete it and mind what you post next time @reekadobanks
I feel that the publication that made the singer had no inkling of offending the athlete, however it was a lack of respect for newlyweds.
Messages like "It was time for a software update"; "Desist version 13 and install 14"; "Hide the miss Nigeria 2015"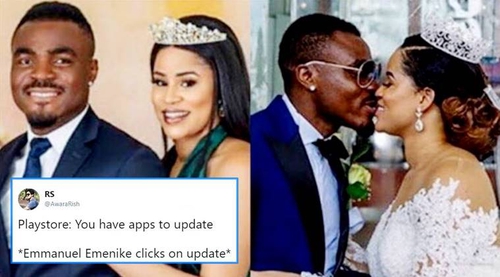 Nnadi on the other hand decided to use his instagram account to express his happiness for the wedding and to complain about his wedding planner, saying that he was a person with whom he is difficult to work and also a little aggressive. He was extremely rude, arrogant, unprofessional and incorrigible throughout the planning process.
Adding that the wedding had some problems and several of his guests suffered the painful consequences.
Well after all these laughs and bitterness of the newly married couple, it is nice to see a young sportsman celebrate his love in their social networks, whether for better or worse a wedding is a unique union and is a decision that is taken with the heart.