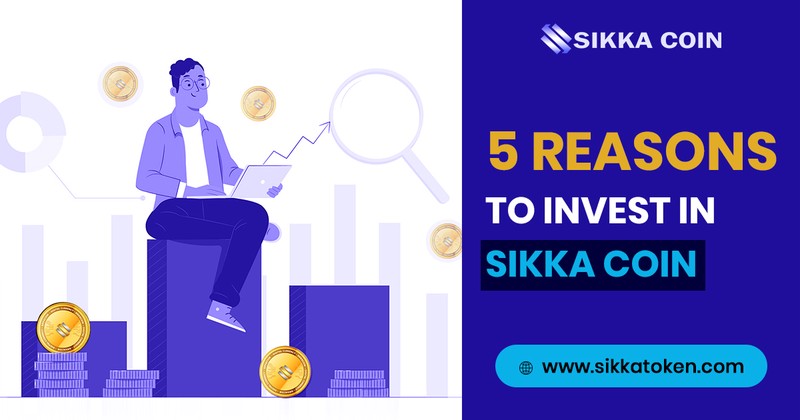 Sikka Coin is bringing a revolution in the payment, trading, and Financial Services verticals. It will make buying, selling, storing, and trading cryptocurrency hassle-free.
There are many features and opportunities this project is offering and making sure that users get full benefits. However, a project requires something special and profitable so that investors are attracted to it and cannot restrain themselves from investing in it.
In this article, we are describing the top 5 reasons an investor can look into and invest in SIKKA Coin. Go through our list, check the whitepaper and all the opportunities and decide for yourself.
Looking for opportunities? Check top 5 reasons to invest in SIKKA COIN
Binance Smart Chain
Ethereum blockchain is the most popular cryptocurrency blockchain in the world and the majority of projects were using it as the base of their operations. Last year the gas fee or transaction fee get increased and thus making the transaction biome very costly in all such projects that were based on Ethereum. However, Making transactions through projects running on Binance Smart Chain is way cheaper than you thought.
Additionally, it is faster and has better security standards. With all these benefits users will be surely attracted to the project and hence investors will get more benefits.
Environment Friendly
2021 was an interesting year for all the cryptocurrency and crypto enthusiasts people. Some major brands came forward and started accepting payments in cryptocurrencies. However, it doesn't take them too long to get their step back. Energy consumption was a big issue that was pointed out by these giants and they are not wrong.
However, these problems can be solved with better management and the use of modern techniques, and that's what SIKKA COIN is doing. Proof-of-Stake (PoS) is the right step in right direction. Investors can be sure that the project is not harming the environment and also trying to continue its good work.
Independent blockchain
While it runs parallel to Binance Chain, Binance Smart Chain is a stand-alone blockchain. This means that even if the BC ceases to operate, the BSC will continue to run its technical and commercial functions. Thus, there will be no halt in operations and opportunities. SIKKA COIN is built differently and it can allow users to trade cryptocurrency more effectively.
Additionally, despite not being a BSC layer 2 solution, Binance Chain and BSC can freely communicate with each other without friction (as it is an independent blockchain, parallel to the Binance Chain). This makes it easy for users to transfer their cryptocurrencies between BC and BSC.
Staking and Governance
It runs on a proof-of-stake (PoS) consensus model, specifically, proof-of-stake authorization. BSC's native token, Binance Coin (BNB), can be staked to contribute to network security and vote on community governance protocols. Its PoS model also enables it to process transactions faster, placing it above a network that still implements a full proof-of-work (PoW) system.
Validator quorum
A validator quorum makes the BSC network more secure. The blockchain has 21 validators that are selected by BNB stakes every 24 hours. Anyone can be a candidate for election as a validator, but only the top 21 highest-stakes nodes will be chosen for the next validator set.
With this setup, the transactions become more secure and instant. Features like this make the project more reliable and ensure its success so investors get good returns on their investment.
SIKKA COIN with all the unique features and better management is making sure that user gets the best experience and investors generates good returns. Additionally, it is also providing never-ending opportunities to both.
Thus if you are an investor and looking for a good project to make an investment then SIKKA COIN would be the best choice.