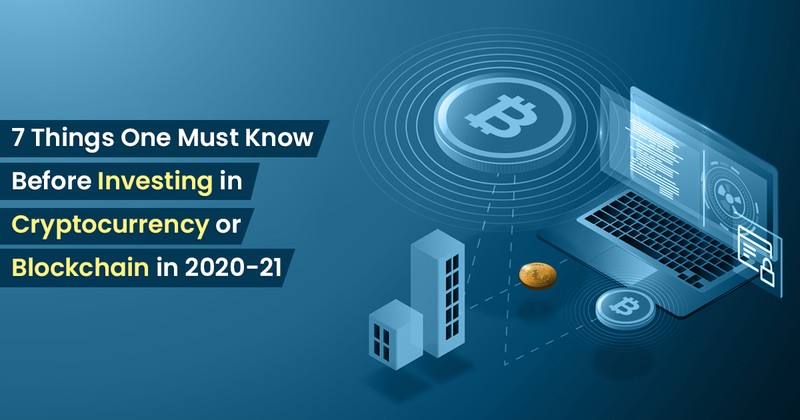 Are you planning to invest in a cryptocurrency or blockchain project this year? Make sure that you know the following things about cryptocurrencies before making your decision.
The crypto revolution, which started in the year 2010 with the invention of Bitcoin, has been going strong every year. If statistics are to be believed, the crypto industry will see unprecedented growth in the coming years. Not just bitcoin, but every cryptocurrency that's worth it will see a huge rise in demand and price in 2021 and beyond, which sums up why it's the best time to start investing in cryptocurrencies.
And no, it's not too late. The actual surprise is yet to come.
However, that does not mean that you can go and invest in just any cryptocurrency and expect good returns. Finding a good cryptocurrency worth your time and money is a matter of research and experience. Know these 7 points in order to make the right selection for your next crypto investment.
Blockchain is a powerful technology
Blockchain is the key technology behind bitcoin and most other digital currencies. As a distributed ledger technology (DLT), blockchain facilitates peer-to-peer transactions using cryptocurrencies.
Always invest in blockchain and the project concept, rather than the cryptocurrency itself.
Cryptocurrencies are volatile
Know that cryptocurrencies are highly volatile, which means the price of a coin can change anytime and abruptly. So, always be ready for a surprise. Invest in cryptocurrencies that are a good combination of volatility and a strong concept.
Not many cryptocurrencies are worth it
A large number of cryptocurrencies in the market have least or no value in the long term. In other words, investing in such cryptocurrencies will give you no real value, except for some returns. Invest in a cryptocurrency that is ready for mass adoption and has a real value or offering a real solution to the world.
Do not expect guarantees
If you are looking for guaranteed returns, crypto is the last place you should be. While the crypto industry is perfectly capable of doubling or even tripling your investment in no time, there is no guarantee it will happen or when it will happen.
Look for use cases in a cryptocurrency
A digital currency that has good real-world applications will almost always have better chances of succeeding than a currency with no use cases. So, always invest in a cryptocurrency with futuristic value and applications.
LibraCoin is a futuristic coin with great value
If you are looking for a valuable cryptocurrency with great futuristic value, do read about the Libra coin. It's a next-gen cryptocurrency backed by a blockchain-based platform for eCommerce and small businesses. The Libra Ecosystem and coin enable businesses to trade in a secure, P2P blockchain environment. Read more on the website.
The best time to invest in cryptocurrencies is now
If you are wondering whether you're too late or whether it's the best time to invest in cryptocurrencies, let me tell you that you are right on time. People are only just getting aware of the power of blockchain and cryptocurrencies, which makes THIS a perfect time to start investing in cryptos. The future is awesome for crypto investors.