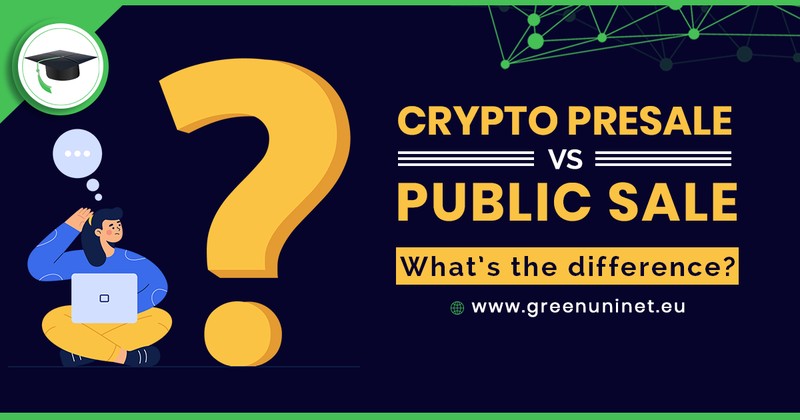 The presale (stage 3) of Greeny Tokens has started, and people are getting in line to buy the most anticipated crypto token of the year. If you haven't already purchased Greeny tokens, visit https://greenuninet.eu/ to reserve your tokens today before the special pre-sale bonus offer expires.
The presale of Green Uni Network will conclude on 31st August and will be followed by the Public Sale, which starts on 1st September 2022.
For those who are wondering why there are separate presales and public sales, here's everything you need to know about ICO presales and public sales and how they are different.
What is Crypto Presale?
An ICO presale is a special token sale event that is conducted before the main public sale is launched. A presale is generally exclusive to special members, family, friends, business associates, partners and institutional investors.
What is a Public sale?
A public sale is a crypto token sale event that is aimed at the general public, i.e. anyone can participate in a public crypto sale.
There are many other differences between a presale and a public sale, some of which we will discuss here.
Crypto Presale Vs Public Sale
1.While a presale is exclusive to invite-only people and may not be available to everyone, a public sale is available to the general public and accepts funding from everyone.
2. A presale will generally offer tokens at a higher discount than a public sale.
3. A presale may also offer special bonus offers on the purchase of tokens by early buyers.
4. A presale is like the entry point to investing in a new crypto project and gives you the chance to get involved with a high-potential cryptocurrency at a very early stage.
5. A presale is generally held to raise funds to start the development of the blockchain (product). At the public sale stage, however, the product is usually already developed and is in the testing phase.
Clearly, the benefits of investing in a presale are higher as compared to participating in a public sale. Because you can get the token at a discounted price along with special offers like bonus tokens, the expected profits are much higher when the token is launched on the exchange. However, that does not mean that investing in a public sale is not profitable. The token price in a public sale is still much lower than the expected market launch price. So, the ICO investors will most likely be in profit no matter at what stage they invest.
In the case of Greeny Tokens, the team will be conducting a 51-day long presale, which will be held in four stages from 11th July to 31st August. The presale will be followed by a public sale, which starts on 1st September and concludes on 30th November.
The Greeny Token price for the sale has been fixed at 0.0001 BNB per token. However, those who invest in the presale will also get an additional bonus of up to 20%, depending on the presale stage. The earlier you buy, the bigger bonus you can get. So, don't wait!