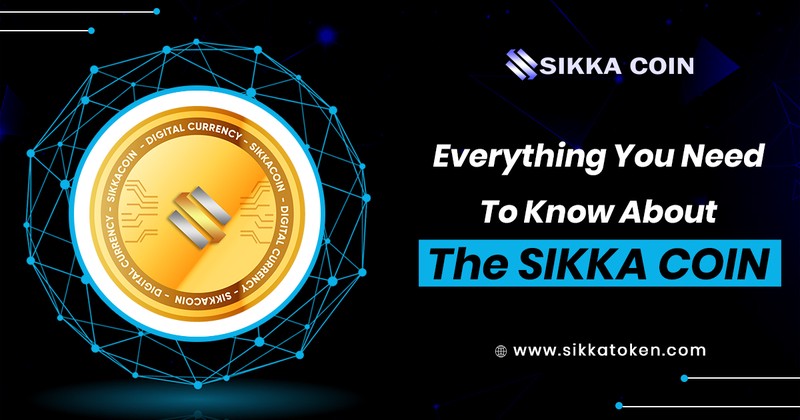 Sikka Coin is the future of cryptocurrency exchanges. With it, activities like buying, selling, trading, and storing cryptocurrencies will become much easier to perform. The project is a combination of SikkaPe, SIKKA COIN (SKC) and Sikka Wallet. In this article, we will talk about Sikka Coin in detail, what benefits it possesses, and how big its plan is.
SIKKA Coin
Sikka Coin is a revolutionary cryptocurrency based project. The project will have a robust ecosystem where Sikka Coin (SKC) will be perfectly blended with some other products like SikkaPe and Sikka Wallet. The combination will help the users to make faster cryptocurrency transactions in a very efficient way.
Sikka Coin and Sikka Wallet are ready to be used and Sikkape is on its way to joining this revolution. To help us build SikkaPe we launched SKC tokens to engage our community, and reward them accordingly for contributing to our success. This helps us stay true to the ethos of cryptocurrency and blockchain — to share the rewards of SikkaPe's success with our early adopters and supporters.
The exchange platform will have popular cryptocurrencies including Bitcoin and Ethereum. Users will have access to live details and they can buy and sell these cryptocurrencies easily from our exchange using the Sikka Coin (SKC) and then you can hold it safely in your Sikka Wallet. With a robust ecosystem, SIKKA Coin is making sure that people don't have to wander here and there in search of products and services.
SIKKA COIN (SKC) is based on the BEP20 protocol and it utilizes Binance Smart Chain (BSC) for performing activities. There are many reasons to choose it as the base of the project and that's what we are explaining here.
Binance Smart chain is cheaper compared to other smart chains. The transaction fee or gas fee on transactions is very low. Additionally, incorporating with dApps and other DeFi solutions will be easier. The combination offers a high transaction capacity of BC and the smart contract from the Binance smart chain. Thus, the transaction becomes instant, safer, and cheaper for the users.
Top features of Sikka Ecosystem
Safe and Secure: Sikkape enforces specific security standards, being a security fundamental without compromising. We have left no stone unturned to make Sikkape the safest exchange in India. We are investing in regular security audits to ensure highly secure trading.
Early Bonus and Rewards: Users can get a 10% direct referral commission during private and pre-sales. Along with this, there are various bonus programs during ICO like 15% extra coins in the first month, 10% extra coins in the second month, and 5% extra coins in the third month.
Universal Access: Download the Sikkape Android and iOS mobile apps to buy and sell crypto from anywhere, anytime. Sikkape provides a seamless and powerful trading experience across all platforms on the web, Android and iOS mobile, and Windows and Mac apps.
Fast and Robust: Our ultra-fast trading engine, known for its high scalability, handles multiple real-time transactions. Sikkape can handle millions of transactions. Our system infrastructure can be scaled up in a matter of seconds to meet the growing demand.
Low Cost: Simple to trade-in at the lowest trading fee with high leverage on all trades and the leading cryptocurrency exchange. Lowest producer and taker fee in the industry along with the lowest clearance fee.
Instant crypto transactions: Easily buy and sell bitcoin and other popular cryptocurrencies with low transaction fees and high comfort. This simple and efficient design helps one trade easily even without the knowledge of crypto.
Invest in Sikka Coin today and be a part of this revolution. By investing you are not just helping the project but also creating opportunities to earn more on your investment. So don't waste your time here and there, check the whitepaper and invest in Sikka Coin today.