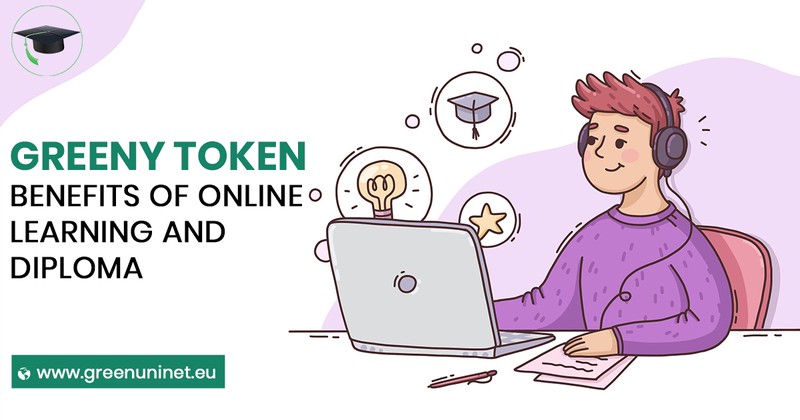 The Green Uni Network is a blockchain-based online learning platform that allows students and job seekers to get European diplomas in informatics & computer science. The Smart Student platform of the Green Uni Network can be used to access and learn through high-quality career-oriented courses from top European universities and colleges.
Green Token is the utility token that provides access to all platforms of the Green Uni Network and can be used as a medium of payment to purchase books and other learning resources and material within the network.
Let's find out how blockchain-based online learning on Green Uni Network can benefit people around the world.
Benefits of Online Education
There are many advantages of online learning. It's convenient, cost-effective and interactive.
Easy & Seamless
One of the biggest benefits of online graduation and diploma is convenience. Students may not always like to go to a college or attend university classes but they will find it convenient to attend online classes. Moreover, it is easy to manage all your learning material and data online, which you can access anytime and anywhere.
Cost-effective
Online learning is cost-effective for many reasons. Many colleges and institutions providing diplomas online usually charge less fees for the online course because they get to save on the cost of physical setup, infrastructure, etc. At the same time, studying online should save costs for students as they can save huge on travel, physical resources like books, etc., library memberships, and more.
Accessible Everywhere
The online diploma courses offered by the Green Uni Network are accessible everywhere in the world. No matter where you live or work, you can access and study at any time, even when you're travelling. This will enable working professionals to upgrade their skills through new, in-demand courses without the need to leave their current job.
Career-oriented Education
Because of the increase in demand for remote learning and online courses, many universities are now offering their most popular courses at inexpensive rates to their online customers. This also enables students to get a course or diploma from one of the top universities anywhere in the world without the need to actually move to another city or country.
Saves Time
Online education saves time for both students and teachers. This includes the time to travel from your place to college and back, the time to explore different courses of multiple universities, and the time to spend hours collecting resources, books and educational material. Instead, you can learn the same thing only in probably less time from the comfort of your own place, home or office.
More time to learn more skills
Online learning gives you more time, as you can do more in less time when you are going on your own schedule. This way, you get more time to learn and can even finish more courses or learn more new skills to help your career grow.
The integration of blockchain in online education will help improve the security of user data as well as enable users to pay in cryptocurrencies when buying educational products, courses, etc. Check out https://greenuninet.eu/ for more.