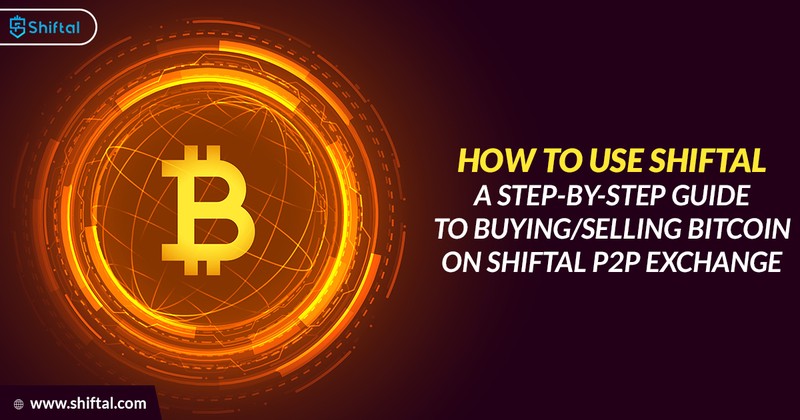 Shiftal is one of the world's most popular P2P bitcoin trading platforms, where you can buy/sell Bitcoins directly from/to other users at a low trade fee and fast transaction speed. To start trading Bitcoins on Shiftal, you only need to create an account on the Shiftal website and then verify your KYC, which is an automated process and takes only about 5 minutes.
So, are you ready to join the world's fastest-growing P2P crypto exchange? Here you'll get the step-by-step guide to registering on Shiftal and performing your first trade.
Why trade bitcoins on Shiftal
Shiftal is a peer-to-peer crypto exchange that unlike regular exchanges allows users to trade directly and without intermediaries. With Shiftal's user-friendly and secure mechanism, Bitcoin trading is easier than ever.
Other top benefits of Bitcoin trading on Shiftal include:
. Security by Escrow
. 70+ Payment methods
. User-friendly interface
. Low trading fee (zero fees for trading without ad posting)
. European regulated exchange
. Enhanced user privacy
. Robust support system for dispute resolutions
. Callback feature
Best way to buy Bitcoin - Step-by-step Guide
Step 1: Register on the Shiftal Website
Registering with Shiftal is simple and free. You can create an account by visiting shiftal.com and clicking on the 'Sign up free' button.
Upon successful registration, you'll get a free and highly secure online wallet where you can store and manage all your digital currencies in one place.
Now, you can sign in to your Shiftal account.
Step 2: Finding the right offer
After logging in to the Shiftal website, use the option to choose your location and preferred payment option. Based on your selected payment method, the website will display the best bitcoin offers available for the same. If you are not sure which payment method you want to use to buy Bitcoins, select "all online offers" from the list. This will show you all the available bitcoin offers in your location.
Step 3: Selecting the right offer
Once you've found all the bitcoin buy offers that fit your payment criteria, the next step is to choose the right trader based on the reputation and volume of trades. You can see details about a particular trader on their profile page. Choose a trader with a high volume of trades and a good overall reputation score. You can check whether your selected trader is offline or online using the offline/online indicator.
Step 4: Opening a trade
Once you click on the 'Buy' button for a particular advertisement, it will take you to the trade page, where you can find more information about your selection, including the terms of the trade. Make sure to read the terms & conditions properly and thoroughly before you proceed to trade. If you agree, you can start the trade by making the payment directly to the seller's account.
The Shiftal platform uses an escrow wallet service to hold the coins being traded until it receives a confirmation of the receipt of the payment by the seller.
Step 5: Receiving Bitcoin in your wallet
Once you've made the payment to the seller's account or wallet, the Shiftal Escrow will wait to receive confirmation from the seller. After the receipt of payment confirmation, the platform will release the coins, which will be instantly credited to the buyer's (your) account.
For KYC verification of buyers and sellers on its platform, Shiftal uses a highly secure and automated KYC system in partnership with YOTI - a popular identity verification and sharing platform secured with 256-bit encryption.
Sell Bitcoin on Shiftal - Step-by-step Process
The process to sell your bitcoins on Shiftal is more or less similar to the Bitcoin buying process mentioned above. A new user will first need to register on the Shiftal website. After that, they can log in to start trading.
To sell Bitcoins, you can either select from the available ads based on your location and preferred payment options or you can post a new trade advertisement with your preferences.
Choose the right advertisement and trader carefully and after thorough analysis. Click the 'sell' button to go to the trade page to start a trade. Make sure to read the trade terms carefully before you start a trade.
If both parties agree with the terms, ask the buyer to make payment to your preferred account. Once you have received the payment, send a verification to the Shiftal escrow. After receiving your confirmation, the escrow will release the coins to the buyer's wallet.
Take the first step to Financial Freedom now. Create Your Shiftal Wallet Account today.
Source Link: https://medium.com/