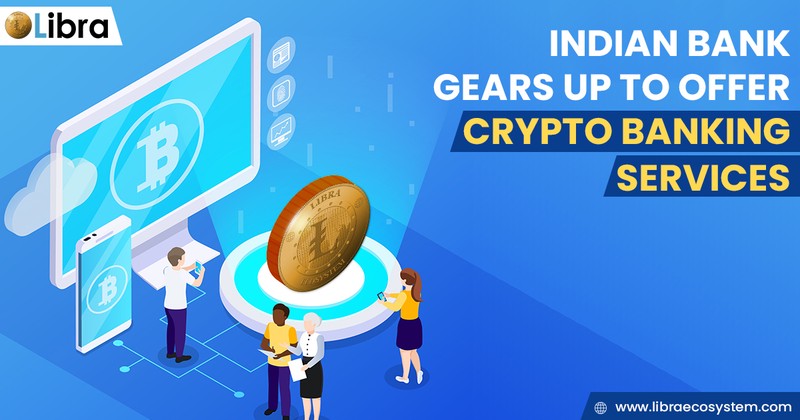 As the Indian users and investors are getting interested in cryptocurrencies, many Indian banks are gearing up to not only accept cryptocurrencies but also allow their customers to use these digital currencies for various transactions, including payments.
According to reports, an Indian bank is all set to start providing crypto banking services to its customers through its physical branches. The bank will reportedly allow its customers to buy cryptocurrencies like bitcoin, open crypto saving accounts, perform transactions, take a loan against cryptocurrencies, and more.
If this happens, it will open up a whole new world of opportunities for the Indian markets. As of yet, the use and trading of cryptocurrencies are officially prohibited by the Indian government over the regulatory concerns. This prevents Indian users from openly using or trading cryptocurrencies. Also, it limits the banks from allowing their customers to perform crypto-related transactions.
But, that hasn't stopped Indians from participating in the cryptocurrency revolution. People in the country are not just investing, but developing on cryptocurrencies (or the underlying blockchain technology).
In the latest developments, the Libra Ecosystem is planning to open its doors for the Indian customers and merchants, allowing them to trade through its blockchain-based global e-commerce system. Besides allowing transactions like payments through cryptocurrencies, the project will also provide e-commerce websites like Flipkart and Snapdeal in India a completely decentralized platform to manage their operations, including payments, investment and revenue.
This combined with the bank's initiative to make cryptocurrencies more accessible to Indian users is expected to disrupt the crypto industry for good.
The United Multistate Credit Co. Operative Society, a famous credit cooperative society based in India and providing various financial services, is reportedly in talks with the crypto banking platform Cashaa to start providing crypto banking services in India through its physical branches.
"The joint venture, Unicas, will build the world's first crypto-friendly financial institution with physical branches and operations," says Dinesh Kukreja, Managing Director of United Multistate Credit Co. Operative Society.
The bank currently has 22 branches across India and plans to provide both crypto and traditional banking services to customers across all its branches. Among many things, it will allow common people to buy cryptocurrencies directly from the physical branches of the bank using cash. As of now, the only option for anyone (in India) looking to buy cryptocurrencies is to sign up with a crypto exchange that may or may not accept fiat currencies like INR.
Customers will also be able to open savings accounts with the bank using their crypto wallets and use it to perform transactions like crypto transfer, trading and more.
Later on, Unicas will also enable customers/users to take loans against cryptocurrencies, gold, real estate and other assets. The bank already provides traditional services like investment, loans and saving accounts. These coupled with cryptocurrencies will create a revolutionary and truly middleman-free banking system.
But, that's not all. The bank CEO also said in his interview that the Unicas will also educate people about cryptocurrencies. In fact, bank customers will be able to walk into any of the 22 branches and get information about cryptocurrencies, market, trades, etc.
The Unicas crypto banking platform is expected to start operations in December 2020. Initially, it will allow customers to buy and sell top cryptocurrencies including Bitcoin, Binance, BCH, EOS, LTC, XRP, and others.