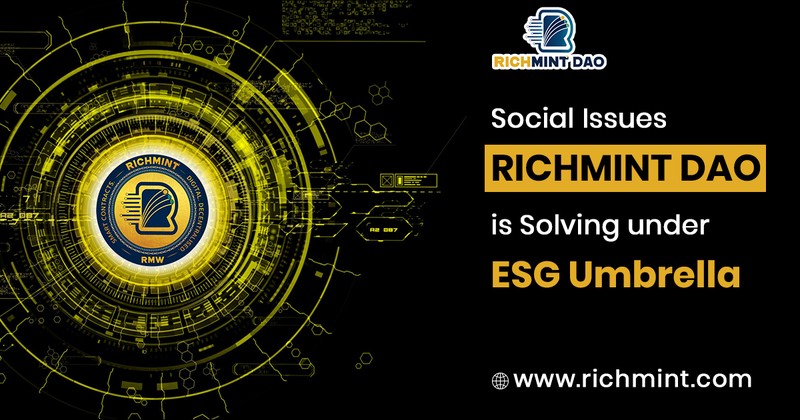 The world is changing and there is a new generation of investors. These investors go through everything related to the company before investing in it. With all the records, ratings, and data, there is one criterion that is becoming very popular among businesses and investors, it is known as ESG Criteria and Rating.
ESG Criteria and rating take care of the company's effort to solve environmental, social, and governance issues in their operations. Last week we described how RICHMINT DAO is trying to solve environmental issues and now it is time for describing social issues RICHMINT DAO is solving.
RICHMINT DAO is one of the most promising blockchain projects of the modern world. It is focused on revolutionizing the traditional way of doing business.
Social Elements in ESG Criteria
ESG investments are made on the basis of three elements of ESG i.e. environmental, social and corporate governance. ESG includes a number of criteria that may be considered either by socially responsible investors or by companies aiming to adopt a more ESG-friendly operating stance.
Now if we only talk about social elements, then social norms cover a wide range of possible issues. There are many different social aspects to ESG, but they are all essentially about social interactions. One of the important relationships for a company, from the perspective of many socially responsible investors, is its relationship with its employees.
The following are some points to consider when examining how a company handles its social interactions:
Corporations that operate an authentic supply chain
2. Supports LGBTQ rights and encourages diversity
3. There are policies in place to prevent sexual misconduct
4. Companies are paying fair wages
As ESG-minded business practices gain more traction, investment firms are increasingly tracking their performance.
Normally, ESG investment rating is one such rating in which some analyzing companies rate the operation quality of the company and their efforts towards all three elements.
Socially responsible companies are trusted by the investors as they avoid investing in companies that can't maintain a good working environment.
What Will RICHMINT DAO Do?
RICHMINT DAO will provide a better rating system for all the businesses and it will be accessible to all the investors easily. The company will also make sure that all the data remain readily available to the investors to make decisions quickly and accurately.
With a blockchain solution, a robust ESG rating system, and better planning, the project will make sure that businesses fulfil all the social elements of ESG criteria. With a standard and universal ESG rating system, Investors will be more confident while investing.
RMW token is a utility token in the RichMint DAO ecosystem, and the good news is that RMW token Seed Sale is live now. Interested people can just visit the website create an account, add funds, choose a preferred currency, and buy RMW tokens easily. The Seed round already ended on 19th February 2022 and Private R1 will start from 21 Feb 2022, today. So don't waste your time and buy RMW Token today!!