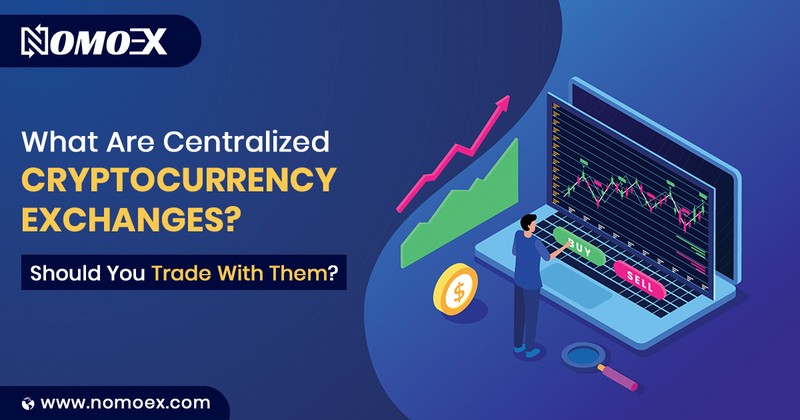 When looking to buy, sell or trade cryptocurrencies, centralized exchanges are still the most common option for a large number of investors. So, what's a centralized crypto exchange and how does it work? Let's find out.
A centralized cryptocurrency exchange is an online platform for transacting (buying, selling, and trading) cryptocurrencies and digital currencies like Bitcoin. Most of the crypto exchanges out there are centralized.
But, what exactly is a centralized crypto exchange?
A centralized exchange platform for cryptocurrencies is a type of exchange that uses centralized entities or middlemen to conduct or process transactions. The simplest example of a centralized exchange is an online shopping transaction using a bank account or card. The bank acts as a middleman and processes the transaction on behalf of the account holder.
A centralized exchange uses middlemen. It can be a broker, a third-party or the platform owner himself. The need for middlemen in centralized crypto exchanges is that they help maintain security and act as a bridge to connect the buyer (of crypto) with a potential seller as well as ensure that the transaction is executed in a secure and dispute-free manner. These centralized entities or third parties are also responsible for the resolution of disputes in transactions on the exchange. All in all, they help maintain the integrity of the exchange and protect investors/trade from fraud and errors in transactions.
More and more centralized exchanges are now offering the ability to buy crypto using fiat currencies. Nomoex crypto exchange, for example, allows its platform users to deposit and withdraw fiat currency to buy and trade over 800+ digital assets. Also, the platform has one of the lowest trading rates in the market.
Benefits of Centralized Crypto Exchanges (Why should you trade with them?)
One of the biggest benefits of centralized cryptocurrency exchanges is high security and reliability. Unlike decentralized exchanges (DEX), these centralized platforms are managed and run by real people who are there to maintain security on the exchange and deal with any disputes. If anything goes wrong, you know who to hold accountable.
Another benefit of trading with a centralized exchange is that it allows you to buy crypto using fiat money, which means these exchanges are the entry point for millions of people who are just starting out in the crypto trading space. You cannot deposit fiat with a decentralized exchange.
In terms of support also, centralized exchanges are considered superior to alternatives. There are real people behind these platforms, owners and teams who you can find and interact with on social media.
Modern centralized crypto exchanges are much more innovative and feature-rich than old exchanges. They are much smarter, intuitive, secure and created with many incredible features to both improve the user experience on their platforms and to make crypto investing a breeze for everyone irrespective of their experience or trading knowledge. Unlike DEX, these centralized exchanges do not need you to have any technical knowledge or trading experience in order to start buying cryptocurrencies. On the contrary, exchanges like Nomoex feature a much more simplified UI with advanced security to ensure a seamless crypto trading experience for their users.