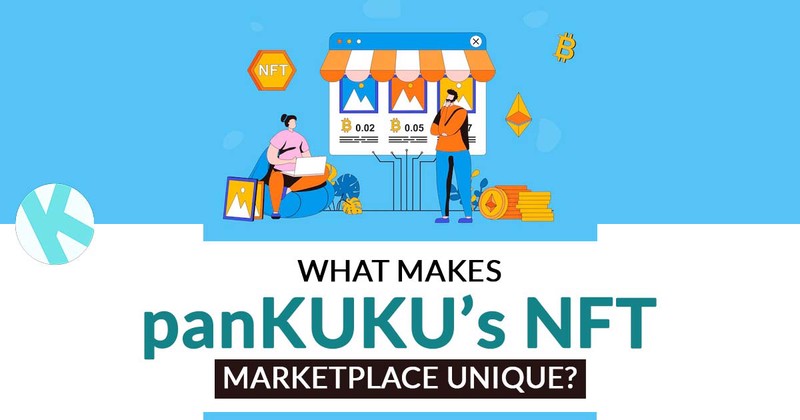 Have you noticed, that panKUKU's NFT marketplace is live? No? Check it now, it is amazing and people from around the world are loving it. In this article, we will talk about our NFT marketplace, how you can create and sell NFTs, and more here.
Non-fungible tokens (NFTs) have rapidly become one of the most explosive crypto trends over the past few years. NFTs are virtual tokens that represent ownership of something inherently unique and rare, whether it is a physical or digital item, such as artwork, a soundtrack, a collectible, an in-game item, or real estate.
Unlike regular cryptocurrencies like bitcoin, Ethereum, or fiat money like the US dollar, these digital assets cannot be exchanged for each other because each token has a specific value based on its unique characteristics.
NFT Marketplaces are like eCommerce platforms and the key difference between both is that while the NFT marketplaces are for NFTs, popular eCommerce platforms like Amazon or eBay are for goods.
On NFT marketplaces, NFTs can be stored, displayed, traded, and in some cases mined (created) as well. It allows digital collectors to buy, sell and create their own tokens that represent ownership of unique, tangible, and intangible objects.
panKUKU's NFT Marketplace
panKUKU's NFT marketplace is a versatile platform where people from all groups can trade NFTs. Users can buy and sell NFTs with KUKU or BNB cryptocurrencies. panKUKU NFT Marketplace is 100% decentralized and no one can interfere with NFT trading between buyer and seller.
If you buy NFTs from the Pankuku platform and sell it to others, you will continue to earn on future sales of your created NFTs by adding royalties (maximum 50%). On the panKUKU NFT platform, you can list any PNG, GIF, WEBP, MP4 & MP3 file and convert it to NFT easily.
Soon the Pankuku platform will allow you to list NFT tokens in bulk on the platform, eliminating the need to list them one by one.
panKUKU is unique because it has all the above features and proper customer support. Most of the popular platforms are not giving proper attention to customer support and NFT buyer and sellers just remain unheard, but with panKUKU it will not happen anymore.
The project is aimed at becoming the biggest DEX project that will offer a range of products and services to users. Currently, the project includes KUKU tokens, pools, farms, Kuku swaps, lotteries, and a robust NFT marketplace, but the list will be longer soon.
The project is unique and soon it will soon get all the exposure it needs. However, if you also want to contribute and the IDO sale is live now you can grab this opportunity by buying KUKU tokens as much as possible. KUKU token is the native token of this project and soon will be used in the complete ecosystem. And when people will use it heavily then the price of the KUKU token will rise automatically due to limited supply, and in this case, people who bought the token coin earlier will get maximum benefits. So don't miss this opportunity and buy KUKU tokens now.