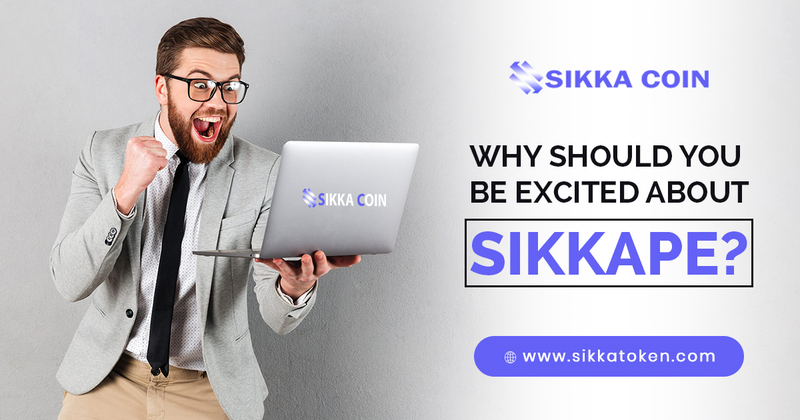 Sikka Coin is one of the revolutionary Blockchain projects which is ensuring that people of all age groups can join and use the crypto-verse. Sikka Coin is trying to smoothen the traditional process of buying, selling, trading, sending, and receiving cryptocurrencies. With various products just around the corner, Sikka Coin is making sure that people get everything that they were looking for in this market.
One product that is coming very soon is the SikkaPe exchange. SikkaPe Exchange will continuously expand its product offering for retail and institutional users. In this article, we will talk about the SikkaPe exchange along with the ongoing ICO sale event that will unlock great profit for you.
SikkaPe Exchange
SikkaPe is a crypto exchange platform where you can buy, sell, trade, and store cryptocurrencies easily and at a low cost. SikkaPe will become the favorite and most reliable destination for Bitcoin and cryptocurrency trading. Our exchange lets users trade and transacts crypto at ease with the following value propositions:
Deep liquidity with access to the best execution prices;
2. High volume trading accounts with competitive fees offered
3. Attractive events such as discounted token distribution (Syndicate) and trading activity-driven competitions (TradingArena);
4. Institutional-grade infrastructure that powers high availability, fully flexible, and horizontally scalable components.
The SikkaPe exchange will have spot trading functionality, with more features and promotions being added to the platform to deliver a suite of trading-related services to retail and corporate users alike.
SikkaPe with the SKC token, Sikka Wallet will revolutionize the way of making transactions and trading cryptocurrencies. It will make transactions faster, safer and cheaper. SikkaPe exchange will also back Sikka Coin (SKC Token) which will make buying and holding SKC tokens more profitable.
Features of SikkaPe Exchange
Track Crypto
Users can monitor 200+ coins at their fingertips in the coin tracking tab. Available metrics include price, volume, market cap, % change, and more that are frequent and up-to-date. The app also offers charts in dual currencies and different time frames.
Crypto Transactions
Users can instantly send crypto to the addresses of users of the CoinPay app at no charge or withdraw crypto from an external wallet.
Trading
SikkaPe exchange provides the facility of spot trading, margin trading, and derivatives trading, here are more details:
Spot Trading
Clients on the SikkaPe exchange will have the access to the deepest liquidity pool and the best execution prices. Retail and corporate users can trade on the exchange effortlessly through the desktop interface or through the exchange API.
Margin Trading
Margin trading on the exchange allows you to borrow cryptocurrencies to trade in the spot market on the SikkaPe exchange. Qualified users can use margin loans as leverage to open positions larger than their account balance.
Derivatives Trading
Perpetual is the first derivative product to be offered on the SikkaPe exchange. Perpetual enables traders to buy or sell the value of their 'assets' without ever trading the underlying asset — allowing them to better manage risk. Perpetual does not expire or have a settlement date, and users can hold their positions for as long as needed.
SikkaPe has all the features current top crypto exchanges do have, but it has some unique ones as well. With a complete ecosystem having its own token and a robust wallet. While combined together they provide the best crypto trading and transaction experience to the user.
Sikka Coin ICO Sale Round 1
After the success of the Private and Pre-ICO sales, we have launched ICO Sale Round 1 for all the interested people. In this sale, a total of 20000000 SKC tokens are at stake and the price of each token is $0.120. The ICO sale will end on 31 May 2022 and each buyer will get a 15% extra token as a bonus token. Just like the previous two rounds, accepted currencies are ETH, BNB, and USDT.
The price of SKC tokens is increasing with each round thus the earlier you buy the more profit you make. Don't waste your time and invest in SKC tokens today.