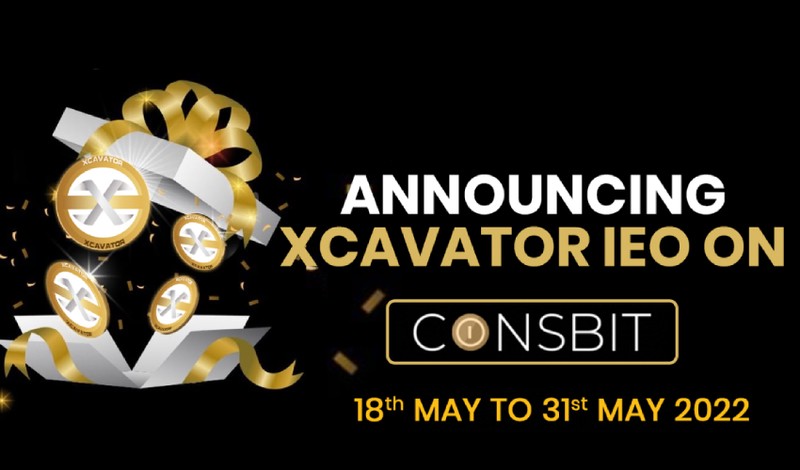 Xcavator is aimed at reshaping the crypto mining industry with a robust cloud mining solution. It will increase hashing power for miners and then allow them to effectively scale up their operations without any hassle to convert mining into profitable assets again.

The IEO has been confirmed and started on 18th May and in this article, we are sharing all the details of this opportunity.
Detail of XCA IEO Sale
The XCA IEO sale will start on 18th May 2022 and end on 31st May 2022. The price of 1 XCA is just 0.21 USDT in this sale round, and a total of 7619047 XCA tokens are available for purchase. More detail about the sale is provided below
Token Price: 0.21 USDT / 1 XCA
Total tokens available in IEO: 7619047 XCA
IEO Sale duration: From 18th May at 12:00 GMT to 31st May 2022 at 12:00 GMT
Min. Investment: 50 XCA
Max Investment: 500,000 XCA
Accepted Cryptocurrencies: BTC, ETH, LTC, USDT, EUR, RUB
Participate in IEO sale here: coinsbit.io
There are purchase limits, you can buy a minimum of 50 XCA and a maximum of 500,000 XCA using BTC, ETH, LTC, USDT, EUR, and RUB cryptocurrencies. This is the best time for crypto enthusiasts and investors to buy XCA tokens at a very minimal price. Thereafter the price of the XCA token in any sale will not be less than this.
How to Participate in the XCA IEO Sale?
The process to participate in this IEO sale is also very easy.
Visit coinsbit.io and create an account.
Then verify your email and sign in to the platform.
Complete KYC process to enable the trading with your account.
In the Coinsbit wallet add enough crypto funds.
Now, from the navigation bar click on the Finance option and then click on IEO and Token sale launchpad.
Then find Xcavator.
Now on its IEO sale page enter the amount of XCA token you want to buy.
Choose the cryptocurrency to make payment.
Complete the payment process.
The purchased amount of the XCA token will be added to your wallet. That's it.
Why invest in Xcavator?
Xcavator seeks to introduce people from different age groups and regions to the crypto world in a more efficient and cost-effective manner.
Xcavator is solving many existing problems in the mining industry by giving people access to crypto mining hashing power in smaller units. The project has its own crypto utility token namely XCA token and will represent crypto mining hashing power.
The combination of modern technologies, good implementation, and a utility token will bring people from many walks of life to capture and experience crypto mining better.
To meet the hashing power needs of miners, Xcavator is constantly researching countries that offer affordable electricity rates, ease of working, and a consistent environment for crypto mining, so that the next farm can be set up there. Cloud Mining is the future of crypto-mining and Xcavator is leading the way for the industry from the front.
Xcavator is not only offering a more affordable crypto mining solution but it is also offering scalability, more profit, better management, and a better way of mining. The project is aimed at making crypto mining beneficial again and with your support it can achieve that, so visit the IEO page and invest in XCA now!
For more information about the project check out the links below:
Whitepaper: https://xcavator.co/files/whitepaper.pdf
Facebook: https://www.facebook.com/XcavatorInternational
Twitter: https://twitter.com/XcavatorTweet
Telegram: https://t.me/xcatkn