Iran's national futsal team has become closer to the Argentine national team in the newest international ranking.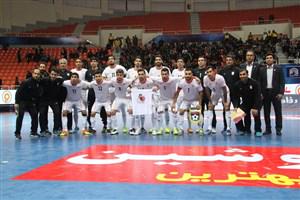 The latest futsal national team classification was announced today by Friday's futsal world ranking and the Iranian futsal is still ranked sixth in the world and first in Asia with 1654 points, considering that no futsal event was held in the last month.
But the only positive change in favor of the Iranian futsal is to reduce the gap with the Argentine national team. Argentina was in fifth place with 37 points more than Iran, but due to the defeat of the team in Paraguay, the gap was reduced to 13, and now the national futsal team can compensate for the victory in the preparatory match up And climb to fifth place in the world.
In this ranking, the Brazilian, Spanish, Russian, Portuguese and Argentinean teams ranked first to fifth in the world.