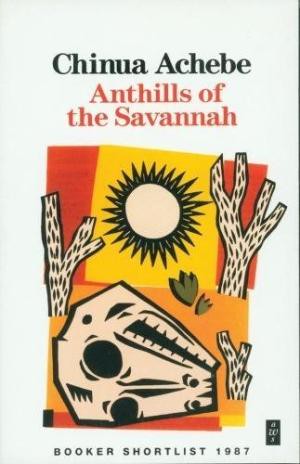 This is my entry to a contest by @kaizen and the bookworm community. The goal of this contest it to bring to the attention of the bookworm community a list of books they can recommend and also use for their Book Reading Challengr. You can find the [link to the contest here](https://whaleshares.io/bookworm/@kaizen/bookworm-initiative-introducing-goodreads-challenge-20181123t015630120z-post). In my part of the world, phone and computers used to be a luxury until quiet recently. I used to read a lot, but after I got a laptop, it's taken all my reading time. Bookworm makes me want to read again.
Anthills of the savanna a novel by Chinua Achebe a Nigerian writer was published in UK in 1987. It is known to be the most important book to come out of Africa in the 1980's having been praised immediately after it's release. The most interesting thing about the novel is it being a representation of the political and cultural crisis that marks the transition from the colonial system to a post-colonial situation. It also creates a timeless and sovereign version of events so that it can speak to the future generations without being antiquated. Achebe is seen to be carrier of history from one generation to the other something which can be traced from his previous books.
The setting of Anthills of the Savannah is in west Africa state known as Kangan.T he story revolves around three educated friends who after a military coup have found themselves positions in the government as president, minister of information and editor of the national Gazette. This positions creates a wall of hatred, jealous and ends in betrayal among the three childhood friends. The President who is referred to as "his Excellency" by his subjects and just "Sam" by his two friends Chris Oriko and Ikem Osodi is surrounded by ridiculous, selfish and power oriented council who works nail and tooth to separate the three friends.
Things start going astray when the Attorney general plants a seed of suspicion in the president's head which grows to a big tree leading to betrayal. "Your greatest risk is your boyhood friends .those who grew up with you in your village," says the Attorney general.He adds to poison the president's mind by telling him that his friend Chris is not hundred percent behind him. Things go from bad to worse when the people of Abazon a province where his friend Ikem Osodi comes fails to make him president-for-life.This increases his fear of betrayal.
Ikem is therefore dismissed from the gazette and his longing for union makes him write a poem entitled, "With earth and earth's people". His love for truth makes him popular and becomes a hero among students immediately after his dismissal from the gazette. His passion rises to the level of poetry while giving a speech at the university of Bassa. In the speech, Ikem criticizes his Excellency. In fury the president orders the entire Abazon body of delegates to be punished and the immediate arrest of Ikem.
This leads to his queer accidental death. His death makes his friend Chris, Beatrice and his lover Elewa know that their incarceration is soon coming. Chris goes into hiding with the hope of escaping to Abazon province but unfortunately meets with his sudden death while trying to rescue a little child from an assault by the police. The book ends with Achebe trying to predict hope for the people of Kangan through the birth of Ikem and Elewa's child.
Anthills of the Savannah replays familiar scenarios. This however helps the readers to see the writer's maturity on his perceptions about politics. Achebe tries' to enlighten the reader that there is not one perfect or ideal regime of governance and that the exit of one exploitative regime paves way for another with the same or even worse characters. Each regime has its way of manipulating and exploiting its subject. The novel however has a defect on the Achebe's unwillingness to fully explore the character of Sam(his Excellency) fully the way he does with Ikem, Chris and Beatrice.