Let me first start by saying for those that don't me too well here (that's pretty much everyone), I do many sports on an amateur basis, but climbing is probably my least favourite out of them all, but I still love it if that makes any sense!? This year I did my first multi pitch climb in Krabi, one of the most beautiful places you can climb and see unbelievable views along the south west coast of Thailand. Currently living in Bangkok I am lucky to be just an hour's flight away from this terrific climbing and beauty spot. Krabi is one of the biggest places pro climbers go to practice Deep Water Soloing.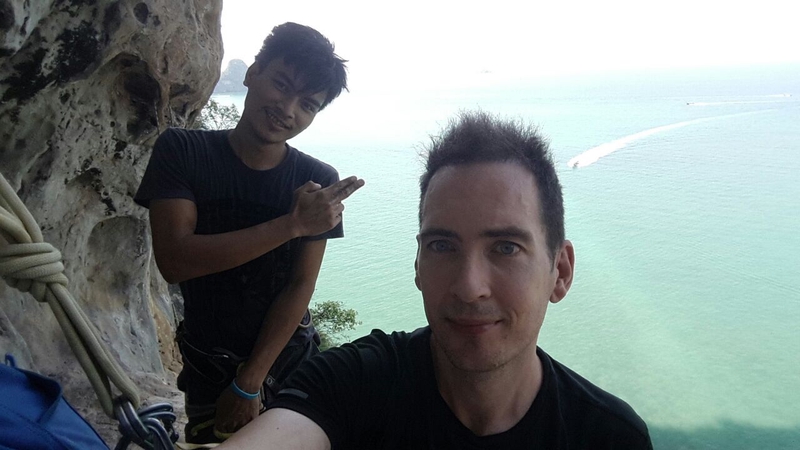 For those that don't know what a multi pitch climb is, it's one where you have to climb multiple routes to reach a very high point on a rock (typically 50 plus metres up). This involves you and your partner taking it in turns to lead the climb and clip in the rope. Your partner then belay's you (catches you on the rope in case you fall). Then when the lead partner has finished the climb, he attaches to an anchor point and belays you up the wall to meet him or her. Each segment of the climb is called a 'Pitch' - this is a resting point you designate. Though most Sports climbing multi pitch climbs have chosen areas to rest as they are pre-set and usually come with routes mapped in a book you can acquire or just ask a fellow climber!
Me and my girlfriend were doing our first multi pitch climb so we took along a guide to assist us with an assistant guide too - one for each of us. Though we had lead climbed before for 3 years we had never attempted a multi pitch so there were certain technical things you need to learn with the rope and some other equipment before you can multi pitch climb on your own. As you can tell we are not experienced climbers, we've just been climbing for around 4 years now.
Tongsai Bay: An Amazing South East Asia Climbers Paradise
We were climbing at Tongsai Bay, one beach you get to on a small boat before you get to the heavily tourist based Railay beach. Tongsai is far quieter than Railay and is popular with climbers the world over. Most of which are far better than me, they climb grades 7+ where as I am still hanging in the 6's and struggling to get near 7's (these are french measured grades).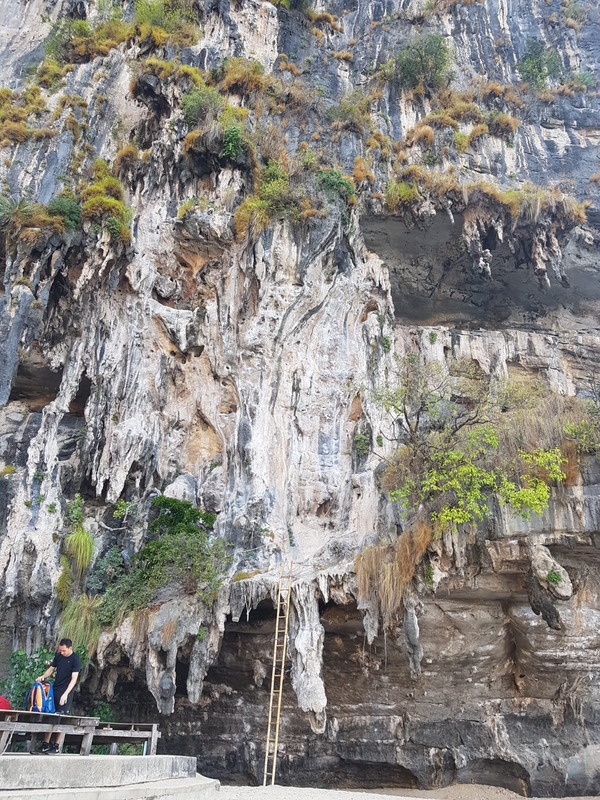 We started early (around 7am) but found that when we got to the climbing shop (a tiny shack up on the hill behind Railay beach) the guide was still sleeping! When we woke him up he was very cranky and seemed like he didn't want to climb even though we had paid him good money to do so the night before. This was his behaviour all throughout the climb for the entire morning which made the climbing much more difficult but I couldn't help laugh about the sheer surprise of how someone could be so rude to their customers.
When we arrived at Tongsai bay, we checked through all the equipment needed to make sure we had everything in place before we began our climb. I was climbing with the our guides much more polite younger assistant where as my girlfriend was with the cranky one. Don't ask me why but the guide insisted on this, even though I wasn't happy about him climbing with my girlfriend when he was being so rude, but he was in charge so I didn't want to argue too much before a bloody hard climb that was to come.
Taking on Humanality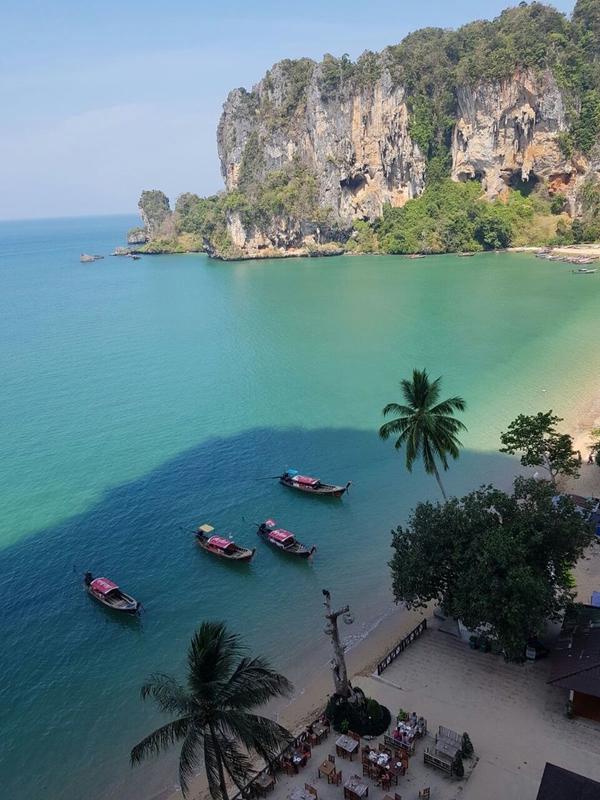 We were climbing Humanity which incorporated 4 separate pitches and roughly 80m of climbing in total. There is a 5th pitch but it's not done very often because of loose rock though more experienced climbers will take it on. Humanality is an unnervy multi pitch climb for intermediate climbers where at times you feel very exposed on the rock and vulnerable to plenty of falling through fatigue.
It offers amazing views on the way up though and if you are somewhat comfortable with climbing in general outside you can lap the views up as seen from the photo I managed to take above.
Start As You Mean to Go On?
For my first pitch climb I went second and so the assistant instructor clipped the rope into the bolts on the rock making it easier for me as I didn't have to spend too much additional energy clipping in as I went along. I just had to take the clips out.
Pitch 1: A Steep Fall Already!
It was a climb around 15m up and one where you had to traverse (move across the wall rather than up) on a very thin ledge. The problem was the route lead around a corner so I couldn't actually see the route my partner went along. So when I came to do the route I actually went the wrong way which was a lot harder. I got stuck on the rock and my forearms ran out of energy, so as I tried to double back I fell off the rock 5m down much to the shock of breakfast goers at the beach front hotel. It wasn't a very pleasant feeling to say the least realising your going to go and having to simply let go and drop. Due to the fact that where I fell off was over a huge protruding rock it took some effort for my guide to pull me back up as well.
Pitch 2: A Nervy Scramble Across
Pitch 2 was surreal, it began with having to overcome another protruding awkward rock which you had to climb over. However the grips were incredibly polished (too many climbers have used the route so the rock becomes very smooth with little grip left). Given it was Thailand, it's hot all year round including the mornings and around this time of year (March 2018) it was very humid in the mornings with the temperature around 30 degrees Celsius.
By this point the main guide had caught up to me behind me and was berating the fact that I couldn't do the climb. This made me begin to laugh half way through my attempt to get over the difficult move because I was amazed at how rude someone can continue being to their customers who were very polite and friendly to him.
Escaping the guides rather moody and off putting gaze was enough motivation to get me over the rock! Luckily enough for my girlfriend she was following him behind so she never had to put up with his constant negative comments during her climbs except when belaying him whilst he climber first.
Once I managed to get over the top it I pretty much had to semi walk and semi scramble across the side of the flat rock but the way it was designed meant if you slipped you would take a big tumble off the side of the rock, I felt a bit nervous here and was pretty hot and exhausted already having failed the previous move several times.
Pitch 3: Leaves You Exposed
The third climb was one where you had to climb on the roof of the rock putting alot more pressure on your forearms and over the top of it. The rock face actually stuck so far out from the main slab I felt very exposed here and could imagine the swing I would take if I dropped off the rock. It was a rather exhausting route for me to complete.
Pitch 4: You'll Never Do It!
This pitch made me laugh, it was the hardest pitch of the four from a technical perspective and what made it worse was the fact that...wait for it... the cranky instructor and my girlfriend both got up to this point as before I started it.
So we pretty much we had all four of us squashed on a tiny ledge 65m up on the rock where we had to tolerate the worse guide we had ever hired to climb with. He actually told me I'd never be able to make it up the rock before I had even began climbing in away where you could tell he wanted me to fail. I couldn't believe what I was hearing from this guy. This made me more determined to do it just to p**s him off. My climbing partner had gone up first and being more of a capable climber than me he even struggled and had to be taken in on the rope by myself twice to rest before he completed the route.
This route even though it was only another 15m in height took me 40 minutes to do including a fair bit of cheating. When I say cheating, I mean cheating just to be able to finish it 'just'. Even with cheating slightly I was absolutely exhausted when I managed to complete it. Physically I was not strong enough in the forearms to be able to do this route faster and I had to take very longer breaks on the way up, sweating profusely throughout.
Each rest I took I can remember looking out over the amazing views of the thai beach but then having that view somewhat spoilt by the moody guide I could here complaining below at how long I was taking. I didn't let him get to me though, I was determined to not come off the wall until I had finished this climb.
The Trickiest Move Out of Them All
Towards the top of the fourth pitch there laid the hardest move of them all. The rock became very flat which meant a lot of finger work and then to climb over the top of the rock you had to grab onto a tufa (limestone rock formed like a long caterpillar) with an exposed grip which felt like you were pretty much holding on to nothing yet this is the grip you had to use to drag your entire body weight over the top of the rock.
When I completed this and actually got over the top of the rock it felt like I had arrived at heaven's gates, I was so relieved!
What I took from my first multi pitch experience.
I Hate Falling But I Love Climbing!
Somewhat of a contradiction but one that many climbers feel, especially when they begin to climb whether indoors or outdoors is the fact that we all hate the feeling of falling off the wall.
When you start to lead climb (it means to only hook into the wall on the way up) you feel very exposed to falling where you can easily take falls anywhere from 2 to 5m down the rock or wall depending on the move. Most of the time it's perfectly safe and injury free but it's the feeling that goes with it, especially if your on a multipitch climb and 60m up from the ground.
I need to practice fall alot more to get rid of the fear of falling! ;( :D
I'm So Weak in the Forearms I Really Need to Start Training Harder
I do alot of pull ups but rarely will these prepare you for climbing which requires far more fore arm and grip strength then back and bicep strength.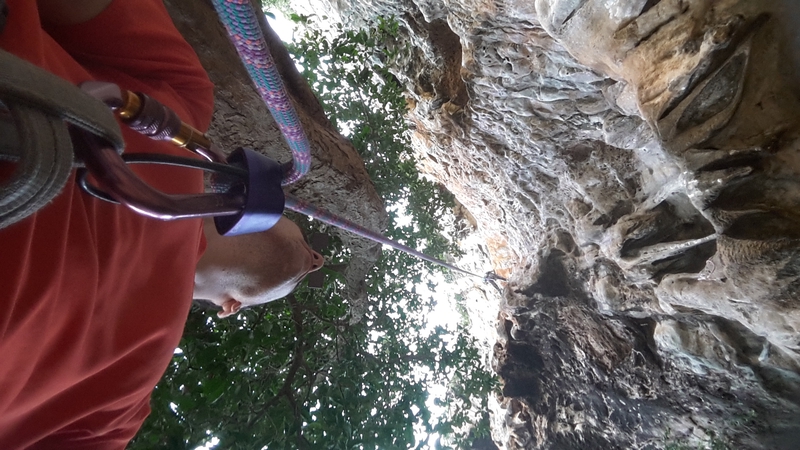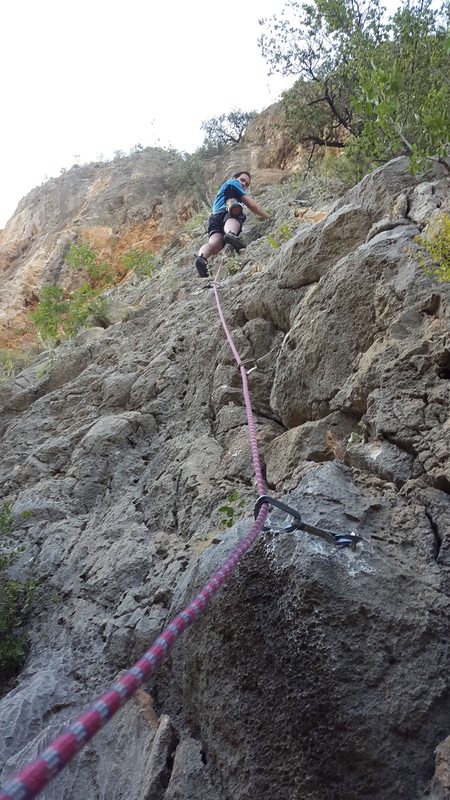 I hate the feeling of falling and I need to really overcome this fear outdoors more so than indoors. I have seen many climbers react somewhat worse than me to falling but this provides me little comfort to what I know is my own fear and until I conquer this fear I'll never become a good climber! Then again it is only my third favourite sport so I can't expect much when I do not put enough time into the activity. I am going to start with a private coach in September so I am going to make some regular posts and videos of my progression, I think it will help keep me motivated to succeed!
A Quick Word About What Climbing Can Bring to Your Life!
Climbing will take you to places you would never go otherwise and the climbers as a community are some of the most friendly and relaxed people you will ever come across no matter where you are in the world. Climbing I have found is a great overall workout and being able to go to some of the most beautiful places in the world, breathe in the freshair and admire the beauty of nature whilst also doing an incredibly mental and physically challenge sport is something I live for, it may be something your interested in trying too - even if you start off indoors.
Thanks for reading!