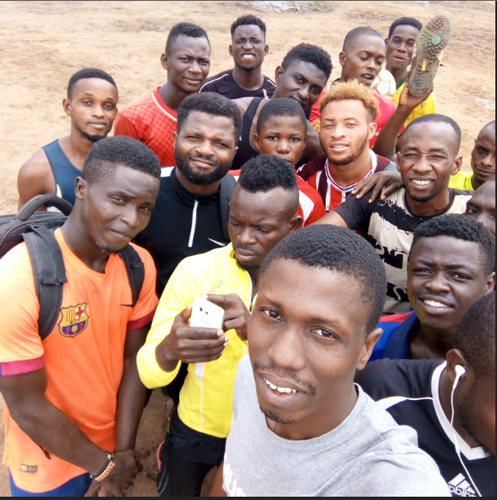 Hello everyone! Today, 13th of July, 2018 was a fantastic one as I was able to make my first Scorum presentation to a local football club in Lagos, Nigeria.
How did I know about Namo FC?
@el-capitan a friend and footballer is a member of the local football team called Namo FC. Namo FC is one of the strongest local football clubs in Ifako-Ijaiye Local Government in Lagos State. They train often at the popular Adura field at the center of the electricity powerline.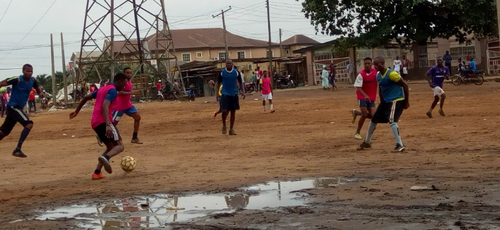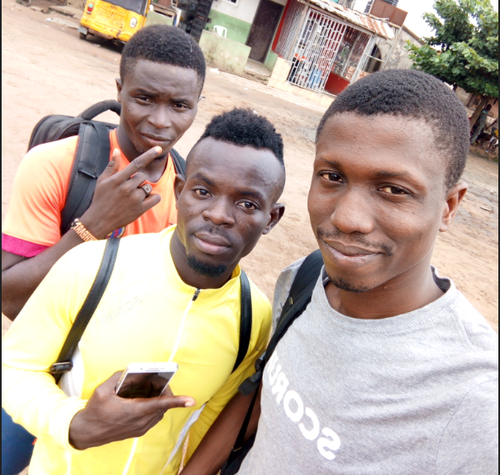 Richard wanted to register on the spot but he left his phone at home. With time, I hope they all get to surface on the platform and post quality content.
Namo Coach
The coach who at the moment is having difficulty in registering will soon be on the platform. He is the last on the right in the picture below. He is such a smart and interesting man to speak with. He was glad to hear about Scorum and hoped his players all use the platform to put their knowledge and skills out to the public.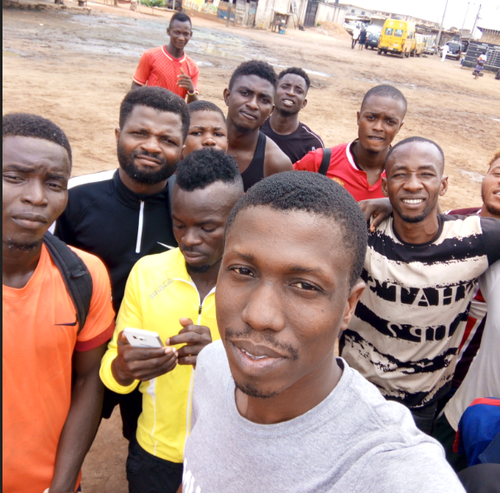 Adura is a ghetto where sporting activities take place in every corner. From little kids and adults playing soccer to table tennis to weight lifting to basket ball.
It is a haven of talents and intelligence.
@el-capitan fondly called Yemi agreed to speak with his coach who agreed that I speak with his team.
I arrived the field while the intensive intra-team match was going on and I watch the strong men battle for a goal. Truth be said; if they went for the World Cup, they'll score a goal against Argentina.
While I was watching the session from a distance
It was a lovely experience as everyone on the team was excited to be introduced to a platform where they can share their views about the sport they love so much.
Apparently, I was able to share the basics of Scorum to the players who loved the idea and some registered on the spot.
My contact to the team, , who is a very talented footballer also owns a jersey store and discussion between us after the meeting has some surprises for future Scorum members.
I had my presentation on my laptop which I displayed for the team. I couldn't take pictures while sharing the platform with them as most of them were tired and the field, being a local open field had no seats.
I chose to introduce Scorum to the football team first because I feel the need to have an audience that understands sports and can talk about it to a certain extent.
Most of the players were in a haste to go home as they needed to clean up and go to their private jobs. In the next meetup, we'll have more pictures to share.
NB: a few of the people I met today have registered. Some others have a problem understanding the process as blockchain technology is a very new concept to them.
I plan to host a bigger event where we get to have access to a big screen. All that is scheduled to hold by the end of the month.
Next Stop:
I am taking Scorum to a local taekwondo club based in Lagos.
Drop your comments, ideas and opinions.
Thanks for reading.