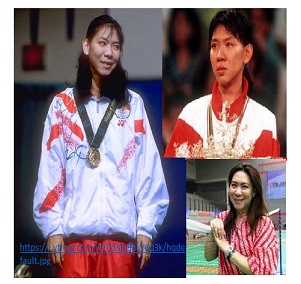 She is a badminton athlete of Indonesian pride. It can be said that she is the most melanchrama of Indonesia's Badminton queen, she is an Asian player, and she has also occupied the highest caste at internasiaonal level in Badminton world.
His full name is Lucida Fransisca Susi Susanti, born on February 11, 1971 in Tasik Malaya.
Susi Susanti has a high and resilient fighting spirit in every game, because her spirit of steel that she is able to scent the name of Indonesia in international stage since the age of 14 years, that is when won the world champion title in Word Championship Junior in year 1985, in 1992 susi suanti reach the gold medal for Indonesia at the Barcelona Olympics. Susi Susanti who became the first person to make the flag of Merah Putih flying and Indonesia Raya song in Kumandangkan in the Olympic arena, other achievements in the Olympic event dalah won bronze medal in Atlanta 1996.
Susi Susanti for 13 years as a national badminton player, she has won more than 88 titles for Indonesia, the title reached the most in 1994, with the title of 14 titles for a year, her name is also often called as competitor of other world badminton players, like Zhang Ning and Lixuerui of China, Bang Soo-hyun from South Korea and Carolina Malin from Spain.
Susi Susanti eventually hanged her racket in 1998, she wanted to focus and spend more time with her children. His name has been engraved immortal in the history of Badminton, and to this day susi susanti irreplaceable, there is no Indonesian women badminton player who is able to match the achievement susi susanti.maka he worth crowned as the Badminton Queen of Indonesia.