Now You can get easily 100 steemhunt tokens for free now.
For This You only have a Twitter Account Dear Friends.
***[Get HUNT tokens for Steemhunt Twitter Campaign]***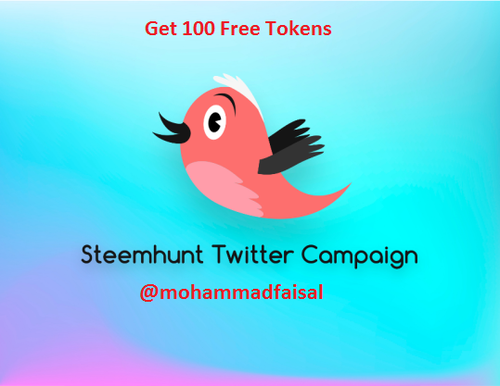 @everyone
You will be given the HUNT tokens for the following two actions:
1. Follow the Steemhunt Twitter account and get 100 HUNT tokens For Free and Easily.
2. Retweet the Steemhunt's tweets everyday and get Easily 10 HUNT tokens per day.
## How to Get Bounties
To receive your bounty, please fill out the form below after you made actions (please read the instructions with great care in each form).
1. For following - https://goo.gl/forms/PHudjUg0ztKgpyNT2
2. For retweeting - https://goo.gl/forms/5MvzocF7rTc7kQta2
Following bounty is ONE-OFF bounty reward for following our account. If you are already following our account, you can apply via the form too.
Retweeting bounty is based on your daily Retweeting. If you meet the following criteria, you are eligible to get 10 HUNT per day.
# 1. You are currently following the official Steemhunt Twitter account.
**2.You've retweeted at least one of our Twitter posts.
3.You liked the Twitter posts that you've retweeted.
4.You are not blacklisted.**
The bounty token will be sent the following Monday KST.
**Steemhunt Twitter Account** - https://twitter.com/steemhunt