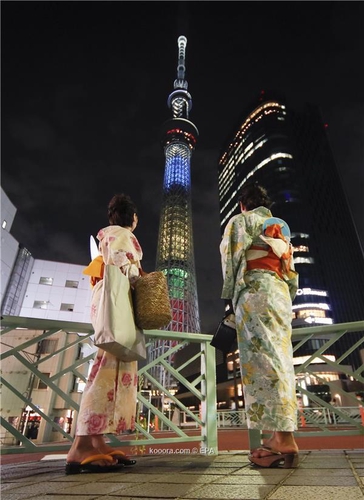 Japan's famous tourist attractions were lit up simultaneously, Tuesday, in a sign to show that there are only two years ahead of the 2020 Olympic Games in Tokyo.
The Tokyo Tower and the Yuegyi building in the Japanese capital illuminated the colors of the Olympic rings as well as the Goryukaku Tower in northern Hokkaido and even the Fukuoka Tower in the south.
"We would like to send a message to the world that Tokyo is the host city and that the success of the Tokyo Olympics is based on the reconstruction of Fukushima," Tokyo Governor Yoriko Koike said at the event.
"We share geographically in the Pacific and share the future dream of the two cities," said Eric Garcia, mayor of Los Angeles, who will host the 2028 Olympics.
"We are here in Los Angeles to show our respect for the wonderful organizing efforts in Tokyo 2020."
The place is adorned with 731 illuminated paper lamps in reference to the number of days remaining at the opening ceremony on July 24, 2020.