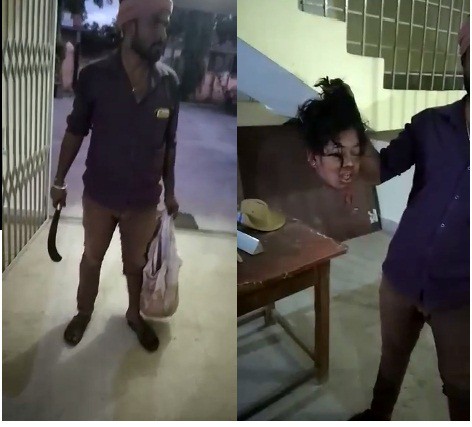 Man slashes off spouse's head flies out with it 20km to police headquarters in Chikkamagaluru
Man slashes off spouse's head, flies out with it 20km to police headquarters in Chikkamagaluru","CHIKKAMAGALURU: Suspecting his better half of disloyalty, a 35-year-old man choked her to death and conveyed her disjoined make a beeline for the police headquarters where he surrendered.
Seven months back, the lady had moved toward police, claiming that her better half of six years was not giving her cash to run the house and accommodate their two kids. Police had sent the couple home in the wake of guiding.
On Sunday night,Satish SG voyaged 20km on his bicycle with the disjoined head in a sack to achieve Ajjampura polie station. "At first, nobody trusted him. Yet, at that point he opened the pack. He was drained and parched and requested a glass of water. He drank and said he was surrendering, describing how he perpetrated the wrongdoing," a cop said.
Police said Satish and Roopa, 25, wedded in 2012 subsequent to becoming hopelessly enamored. "Villagers had restricted it as the two had a place with various stations," reviewed SP Annamalai. "Police at that point helped them get hitched. Satish was a truck driver and ran a chicken slow down."
The couple has a six-year-old child and a three-year-old little girl
On Sunday, the couple ate together at the chicken slow down. Roopa left, saying she was heading home. Some time later, Satish called her more than once yet she didn't get her telephone. Suspecting something wasn't right, Satish surged home however she wasn't there. He discovered her almost an eucalyptus estate conversing with a young and wound up suspicious. He surged back to the slow down and got a blade to execute the adolescent. At the point when Roopa endeavored to stop him, Satish choked her to death utilizing the saree she was wearing. As yet seething, he slashed off her head.