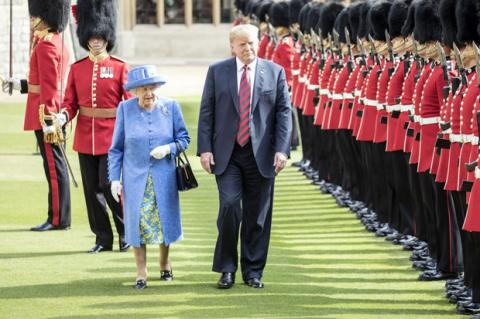 LONDON - President of the United States (USA), Donald Trump, expressed his admiration for Queen Elizabeth II of England. Trump and Queen Elizabeth II had spent time with tea during her official visit to England.
"She is amazing! An extraordinary and very beautiful woman! An honor to finally meet her, to have such a queen is great," he said in an interview with Piers Morgan.
When asked if he discussed Brexit with the queen when they met for tea at Windsor Castle on Friday, Trump said:
He says it's very - and he's right - it's a very complex matter, I think nobody knows how complicated it is going to happen.All people think it will be 'Oh it's simple, we join or not join, or let's see what happens, '"as quoted from the Independent on Sunday (15/07/2018).
Speaking of the 92-year-old queen, Trump said: "She is a wonderful woman, she is very sharp, she is very beautiful, when I say beautiful - inside and out.
Asked if Trump felt the queen liked him, he said: "I do not want to talk to him but I can say I like him so it usually helps, but I like him a lot."
"Very elegant and very beautiful, it's really something special," Trump said of the meeting.
"She is very sharp, very wise, very beautiful, close up, you see she is very beautiful, she is a very special person," she added.
Trump said his mother, Mary Anne Trump, who died in 2000 at the age of 88, was a fan of Queen Elizabeth.
He said: "I am walking and I say (to Melania) 'Can you imagine my mother seeing this scene? Windsor, Windsor Castle.'
"He's a very special person, and the way he did it himself for years, and he still has a few more years," he added.
Trump and First Lady Melania spent half an hour with the Queen but stayed 20 minutes longer than the appointed time after tea together.
During the reign of Queen Elizabeth II for 66 years, there were 13 American presidents - from Harry S Truman to Trump - and she now meets all of them except Lyndon B Johnson.