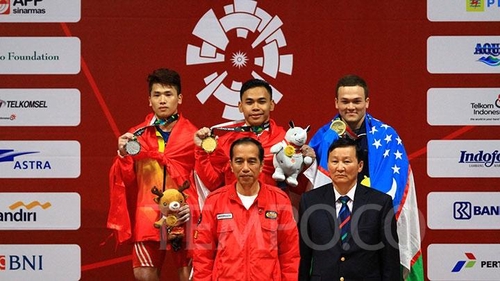 As the host, Indonesia showed considerable achievements for the 2018 Asian Games. Until today, Thursday, August 23, 2018, Indonesia managed to add one gold medal, one silver medal, and two bronze medals.
Gold was won by Jafro Megawanto from the paragliding branch for the accuracy of landing an individual son. While Silver won from Lightweight Men 's 4 rowing branches with athletes Ardi Isadi, Ihram, Ferdiansyah, and Ali Butho.
Bronze medals were obtained from the rowing branch number Women 's Pair 2 in the name of Julianti and Yayah Rokayah. The same medal was also won by Rika Wijayanti from the paragliding branch, the exact number of individual women's landings.
With the addition of these medals, Indonesia has now collected 7 gold, 5 silver and 9 bronze. In the medal acquisition standings, Indonesia is fifth.
However, two of Indonesia's top athletes, Larasati Gading and Dara Ninggar Prameswari, failed to contribute medals for Indonesia from the individual dressage number riding horses.
Larasati, with his horse Calaiza T. However, was ranked 11th out of 15 athletes. While Dara Ninggar Prameswari, along with her horse named Commodore, was ranked 10 out of 15 athletes.
The gold medal in this number was won by Hong Kong athlete Jacqueline Wing Ying Siu. Jacqueline and her horse named JC Fuerst On Tour managed to score a total score of 77.045 percent for the matched individual freestyle middle class.
The freestyle individual race mount competition was judged by five judges, Maria Eleanor Schwennesen (Australia), Peter Johannes Holler (Germany), Freddy P.H. Leyman (Belgium), Susan Wendy Hobson (New Zealand), and Elisabeth Max-Theurer (Austria).
Source: www.tempo.co