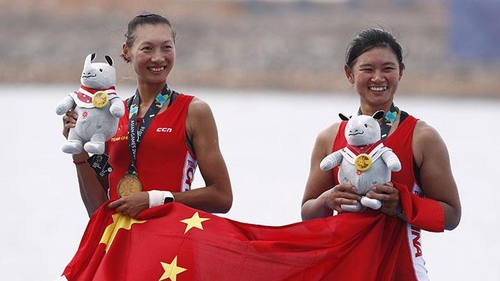 Women's rowing athletes from China appeared as the women's double number rowing champion at the 2018 Asian Games event. Lin Xinyu, shared tips on how to overcome various difficulties to be able to win a gold medal.
In a press conference after the race in Palembang, yesterday, Lin revealed his champion tips: in the form of a dream to equalize her achievements with Chinese athletes in other sports who have won gold.
But not only that, she claimed to listen to the national anthem as a way to grow unexpected energy when competing. The national song makes us excited and proud of the country, she said.
Behind that, Xinyu Lin also complained about the long journey from China to Palembang which was quite tiring.
Lin paired with Ju Rui won the gold medal in the 2018 Asian Games women pair number with a time of 7 minutes 04.07 seconds, defeating the Korean pair who recorded 8 minutes, 00.25 seconds and the Indonesian team, Julianti and Yayah Rokayah with 8 minutes 3.95 seconds.
Meanwhile, Indonesian Paddle Manager Budiman Setiawan admitted that he was not disappointed with the results achieved by the Indonesian rowing team, which only contributed two medals from the eight final matches competed at Jakabaring Lake, Palembang, Thursday, August 23, 2018.
The two medals are bronze from the Women 's Pair number and silver from Lightweight Men' s Four. "No problem, indeed our target is four, but two medals are also satisfying," said Budiman.
Previously, he targeted that in today's final Indonesia could win four medals from eight numbers followed by Indonesia in the final round. The four are the Women 's Pair, Men' s Quadruple Sculls, Lightweight Men 's Four, and Lightweight Men' s Eight.
Budiman also appreciated the strength of China who was so strong in rowing. According to Budiman, to break the dominance of China it does need hard work. We have tried tiered training from 2011 and this is the result, he said.
In the final at Lake Jakabaring, Palembang, in Women "s Pair number, Julianti and Yayah Rokayah recorded 8 minutes 3.95 seconds. The women's double rower lost three seconds from the Korean team, which recorded a time of 8 minutes 00.25 seconds. While the first winner won by China with a time of 7 minutes 04.07 seconds.
source: www.tempo.co