On Saturday, June 1st for 24 hours there will be the biggest field of tournaments on Lucksacks EVER! PLUS a 'High Hand' Ring Game Contest for 100 SCR and 100 STEEM!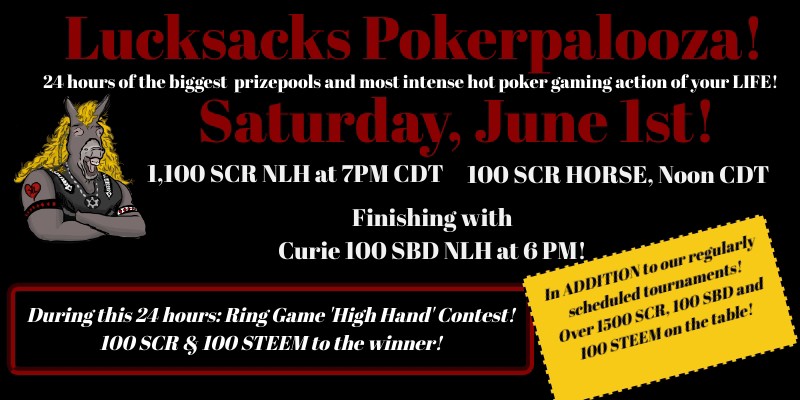 That's Right!
Mark your calendars, kiss the kids and wifey goodbye and prepare to commit yourself to the most intense 24 hours of hot gaming action you Lucksacks have ever witnessed!
Pokerpalooza Specials
An EPIC 1,100 SCR (Chip) Tournament sponsored by @btb and me, @bethalea! You'll have to beat me to get it so hold your thanks till it's over!
7:00 PM CDT 1,100 Chip NLH
Then! Sponsored by your favorite Keeper and mine, Pokerpalooza HORSE 100 Chip! Pays ONLY TOP TWO so good luck!
Finishing with a 100 SBD NLH Tournament sponsored by our friends on Steemit, @Curie!
6:00 PM CDT, 100 Token NLH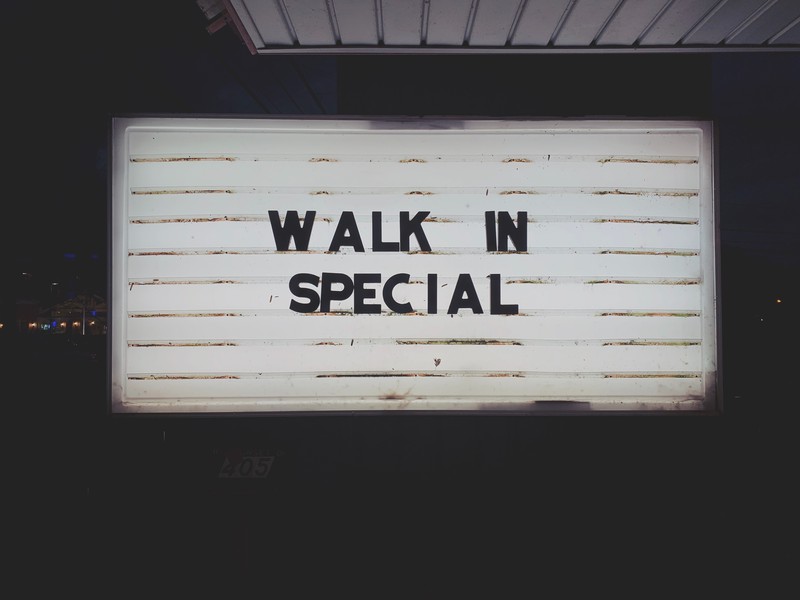 ---
BUT THAT'S NOT ALL MY FRIENDS!
During this 24 hours, when you play Ring Games and get a nice juicy 'High Hand' (think boats, quads... anything spectacular), take a screenshot and post it in the comment section of the designated post (I'll make sure you know which is the designated 'High Hand' post to comment on, don't worry! It'll be published an hour or so before we begin.) The person who comments with the highest 'High Hand' will win 100 SCR thanks to @btb AND 100 STEEM donated by me.

---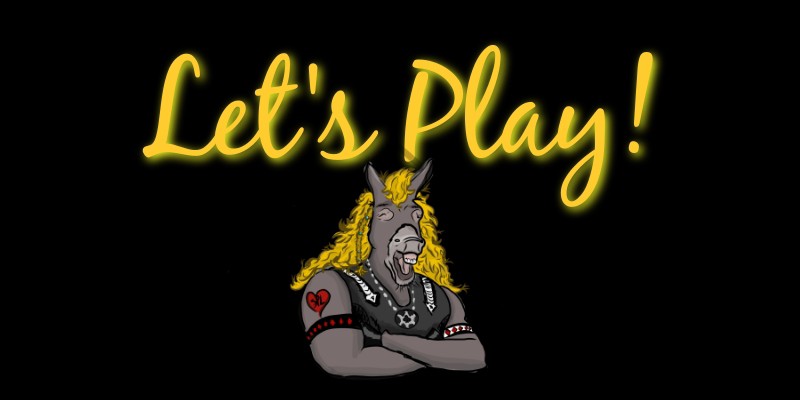 Is That All, B? You May Be Asking... the answer is NO! That's not all!
The 'High Hand' contest and those three Pokerpalooza Tournaments are in addition to your regularly scheduled Super Saturday tournaments! So the 24 hours will go like this:
Beginning Friday, May 31st at 7:00 PM CDT (which is midnight, UTC) is the inaugural Generausd's 20 Chip Super Turbo NLH! He said, "as fast as you can make it" so buckle up, buttercup!
7:00 PM CDT (yes, at the same damn time! you're welcome, multi-table lovers!) Pokerpalooza 1,100 Chip NLH
8:00 pm CDT BROmaha 50 Chip
11:00 AM CDT Llamageddon, 30 Chip
Noon CDT, Sports Betting Community Monthly 100 Chip
yes, again at the same time...
Noon CDT, Pokerpalooza HORSE 100 Chip, paying top two only!
2:00 PM CDT, Scorum-Unchained 10 Chip NLH
5:00 PM CDT Snook'em's 20 Chip NLH
and finishing with!
6:00 PM Pokerpalooza's Curie 100 Token (SBD)
and don't forget to play Ring Games in between and all over, to win the 100 SCR and 100 STEEM prizepool for Highest Hand!