We start with a 1,100 SCR No Limit Hold'em Tournament!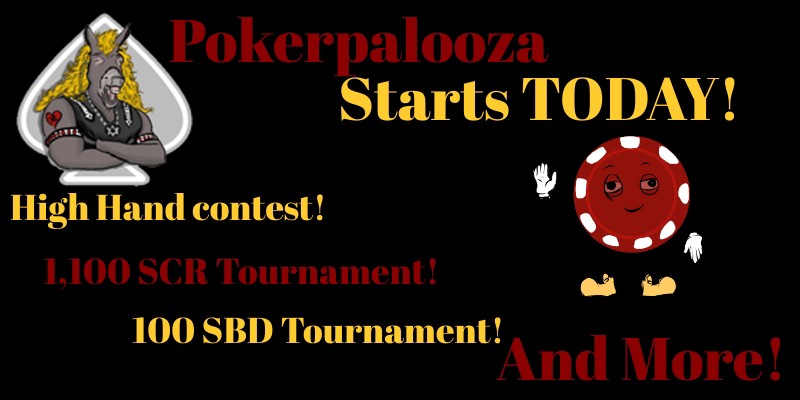 This is the post to comment with your Ring Game High Hand!
That's right, this is THAT POST! So remember, for the next 24 HOURS (starting in nine and a half hours from publishing this post!) Play Ring games at Lucksacks.com, get a 'high hand' and post a screenshot HERE for a chance to win 100 SCR and 100 STEEM! Good luck
Today's Schedule (Pre-Palooza)!
9:30 AM CDT Pot Limit Big-O Turbo 1 Chip Freeroll
11:00 AM CDT 0.20 Token Daily HORSE WTA
11:00 AM CDT Kryptokeeper's 10 Chip Friday PL Omaha
1:00 PM CDT The Little @Mikey Poker Series TNLH2
2:00 PM CDT Ro-Witness 10 Token Freeroll
3:00 PM CDT Followbtcnews 5 Token NLH
then POKERPALOOZA!!
Friday, May 31st at 7:00 PM CDT (which is midnight, UTC)
7:00 PM CDT Pokerpalooza 1,100 Chip NLH
7:00 PM CDT (yes, at the same damn time! you're welcome, multi-table lovers!) is the inaugural Generausd's 20 Chip Super Turbo NLH! He said, "as fast as you can make it" so buckle up, buttercup!
Saturday, June 1st
11:00 AM CDT Llamageddon, 30 Chip,
Noon, CDT, Pokerpalooza 100 Chip H.O.R.S.E
Noon, CDT (yes, again at the same time...) Sports Betting Community 100 Chip Freeroll
2:00 PM CDT, Scorum Unchained 10 Chip NLH
5:00 PM CDT, Snook'ems 20 Chip NLH
and capping the day off with with!
6:00 PM Pokerpalooza's Curie 100 Token (SBD)
I can't wait! See you all during Pokerpalooza!!