It happens! And you don't even have to bribe the floor!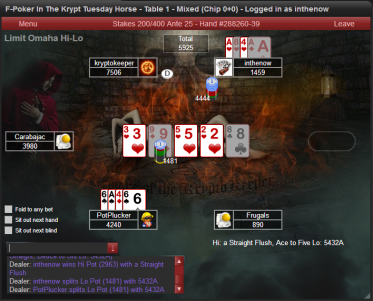 Today's Tournaments
3:00 PM CDT Followbtcnews 5 Token

3:30 PM CDT Pot Limit Big-O 1 Chip

4:00 PM CDT Pizza & Mandolino 30 Chip

6:00 PM CDT Poker in the Krypt PLO 5 Chip


7:00 PM CDT TheBull's Weekly 25 Chip PLO

---
Join Today!

You can find details on yesterdays post, OR you can go to Lucksacks.com and read the home page! The link for our Discord server is also there; come talk with us!
---
Thanks!
Thank you for supporting this post with your upvotes! It helps us 'keep the lights on', so to speak! Also thanks to our favorite BRO's for their long standing support by giving them a vote at @bro-delegate! And thanks for all of you who give Lucksacks and our founder, Tuck-Fheman a shout out on other medias, in Steemit posts and everywhere in between! What he's created here is amazing and unique and he deserves all of the accolades!
xo, b.