Why Freeroll Poker?
Probably the most obvious answer as to why someone may like freeroll Poker is: there's no buy-in required to play in a tournament.The reason I like to play freerolls comes from Chris Ferguson's comments via in which he makes an incredibly bold claim:
The reason I like to play freerolls comes from Chris Ferguson's comments via Phil Gordon's Little Gold Book: Advanced Lessons for Mastering Poker 2.0.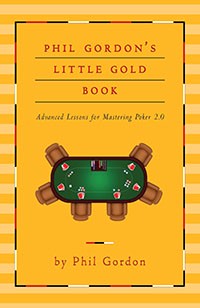 It is within this text that Chris makes an bold claim:

"I wanted to give people a set of rules to follow that guaranteed you wouldn't lose money."
A "guarantee" not to lose money in Poker!? Well, that is indeed a bold statement! Turns out, the only way to truly guarantee you won't lose money in Poker is to start with nothing by playing freeroll tournaments (and then using those winnings to buy in to higher stakes games.)
The obvious next step in this process would be learning and following a bankroll strategy, but that's for another post :)
Where to Play Freeroll Poker with Crypto
I first started playing freeroll tournaments via lucksacks.com about a year ago. I've only been playing poker casually for about two years and I pretty much got destroyed on this site. I discovered it via interacting with the Steemit community via my Steemit blog (as you can guess, the rewards you win are in STEEM.)

Unfortunately, it seems like Lucksacks is shutting down in September 2019. We'll see if someone else takes ownership of the site.
II. Poker Shibes
This is where I play the most at the moment. There are freeroll tournaments every hour and, depending on your skill level and commitment to play, you can easily earn ~100 Dogecoin a day. The only downside here: while the hourly freerolls are awesome, the community isn't large enough for the buy-in tournaments or cash games (I've only played a single 100 Dogecoin buy-in game.) So, the doge you win will have to be converted to another cryptocurrency to be used on another site.
III. Nitrogen Sports

I love this site! While there's only a single freeroll offered daily, there are always people in cashgames - you can play with blinds as little as 0.01/0.02 mBTC. I've only been using this site for about a week, so there may be issues I haven't encountered yet. But so far, I'm a fan.
Where do YOU play Freeroll Poker?
So far, I've audited ~10 websites that claim to offer freeroll poker with crypto that are no good. Furthermore, I still have a bookmark folder of an additional twenty sites to comb through. I'd love to know where y'all play as I'm confident there are plenty of good sites to use that I simply haven't come across yet!
Thanks for reading! Consider giving me a follow for more Poker content (I also post about fantasy football - or as I call it: Final Fantasy Football - when it's in season.)