In a few hours, I am hosting a very fun and interesting poker game H.O.R.S.E. on Scorum Poker. For those of you who have never played this game before I want to share a few things about this game that were a bit tricky for me in the beginning.
H.O.R.S.E. is a multi-game form of poker, which consist of 5 different variants of poker that are played in the rotation: Hold'em/Omaha hi-lo/Razz/Stud/Eight-or-better (Stud hi-lo). Usually, all variants of the game are played in "limit" format, which means that at any given time you will not be able to bet more than a pot.
Razz and low hands in Stud or Omaha
When I started playing H.O.R.S.E. 6 months ago, the most confusing part of this game was Razz and the low hands in Stud or Omaha. The goal of the Razz and low hands is to have the lowest possible hand. And two tables below very well illustrates which hand is better, i.e. lower.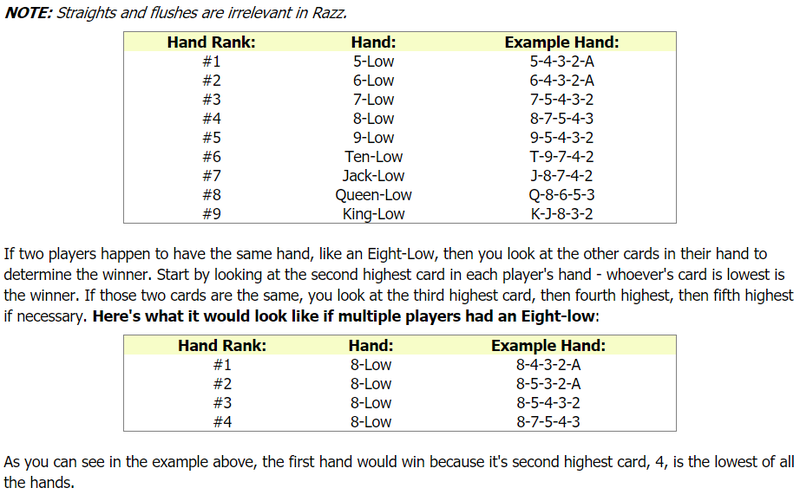 Omaha
In Omaha poker, although players have four total cards in their hand, they MUST use two cards from their hand along with three community cards to make their final five card hand. This is very important! Because often times players will have four cards in their hand to a straight or flush with the fifth on the board, and they will lose the hand because they actually don't have anything.
---
Learning how to play low hands and remembering to use only 2 cards in Omaha were 2 hardest things in H.O.R.S.E. Other than that it is pretty straightforward. But if you would like to find out more about this game this is a very comprehensive source.

Join us! www.scorumpoker.com