the start of this week England coach Eddie Jones pointed out, not with any intent to offer it as an excuse or mitigating factor in England's recent decline, that he has to navigate a continual club versus country conflict.
As he also said, it's not his job to fix it, but instead he can only try to find solutions to problems that are not of his making and struggle on best he can.
Those familiar with the way rugby is set up in England, know the landscape is littered with metaphoric land mines that have a habit of blowing up in the face of the national coach.
He's often powerless: unable to prevent clubs from burning out his best players or from playing them out of position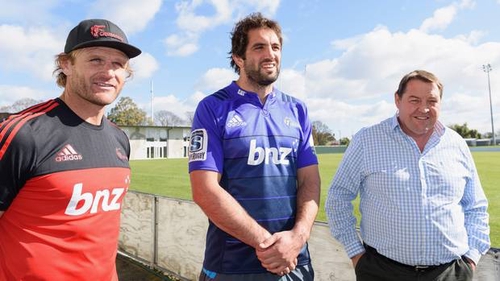 perception is that this internecine warfare doesn't blight New Zealand's rugby landscape – that the central contracting system allows for a flawless world where Super Rugby coaches and All Blacks coaches are entirely in agreement all day, every day.
It's true that the system here is more harmonious than it is in England. There is better alignment between club and country where players are managed holistically with the goal of allowing them to perform at their best for the All Blacks.
The system is good, but it is not flawless. Never has been and never will be.
The perception is not as close to the reality as many are led to believe. Over time there have been some memorable clashes of opinion and obvious instances of the system failing to do what it is supposed to do.
And there is certainly no sense that the All Blacks coaches win every battle or that the system is rigged in their favour to ensure that they always get what they want
didn't feel it was in the All Blacks' best interest to have three of the best five-eighths stock-piled at one club and that one or two of them, may not necessarily see much game time.
Their attempts to leverage one out failed and later that year they had to get involved in making sure that Isaia Toeava, an absolute bolter if ever there was one, on the end of season tour, could be shoe-horned into a Super Rugby squad for 2006.
The Hurricanes took him, but didn't necessarily have the same appetite for Toeava, only 19 and with one NPC start, as the All Blacks.
When NZR signed off on the All Blacks' plan to give 22 leading players the first seven weeks of the 2007 Super Rugby season off, trust was badly broken between club and country.
The so-called conditioning window enraged Super Rugby coaches who had to go through half a campaign without their best players.
If the last 10 seasons have seen little friction between club and country, things are starting to fray a little now.
There was tension at the start of this year when the clubs felt they had two mid-season international training camps foisted upon them.
The All Blacks coaches say they had no choice after the clubs, without due consultation, delayed the start of the season so they could attend the Brisbane 10s competition.
Ill-feeling rumbled on for weeks, if not months and now there is the prospect of more conflict brewing.
The All Blacks coaches weren't happy that the Hurricanes continued to pick Vaea Fifita as a lock this season.
The national side is clear that they see him as a No 6, who at 114kg, they don't believe is heavy enough to scrummage effectively as an international lock.
But despite making their feelings known, they were unable to budge the Hurricanes coaching team and now Fifita, one of the more exciting prospects in the country, has been dropped by the All Blacks
weren't overly happy to see Rieko Ioane used at second-five by the Blues – asked to crash up the ball when he's the most exciting wing on the planet. And nor were they convinced that the Hurricanes made best use of Jordie Barrett when they started to pick him in the midfield instead of the back three where he will play for the All Blacks.
The situation at the Highlanders is no doubt bubbling in the background as a potential concern for the All Blacks.
They have four of the top-five ranked blindsides in the country in their squad. Liam Squire, Shannon Frizell, Elliot Dixon and now Jackson Hemopo are all on the All Blacks' radar, with three of them in the current squad.
The situation has been made more intriguing by the All Blacks' surprise decision to call up Hemopo and declare him a blindside, even though nearly all of his Super Rugby football has been played at lock.
Inevitably, in a World Cup year, one or two of them simply aren't going to get enough game time to stake a claim to go to Japan.
Meanwhile, the Blues have bid farewell to veteran Jerome Kaino a few weeks ago and don't have any established blindsides in their squad. And nor really do the Chiefs.
With all four of Squire, Frizell, Dixon and Hemopo contracted to the Highlanders next year, it seems unlikely that there could be any form of intervention to persuade one to move.
But the All Blacks selectors will no doubt, behind the scenes, be giving clear advice to all four – and suggesting to one of them they consider a change of franchise for 2020.
They won't demand, ask or insist – they will paint a picture of where they see the player in their pecking order and what said player has to do to either stay there or move up.
For all of them, regular game time is a must to support their ambitions.
Just as certain is that the Highlanders coaching staff will want to keep all four. The season is long, there are always injuries and dips in form and they will back themselves to manage everyone's game time
"source"