A couple of months ago, I wrote a similar blog introducing the basics of cricket, something that some other users had been suggesting I do for a while. The blog was fairly well received and so I thought I'd give it a go with Rugby probably my 3rd favourite sport and one which has pretty much no user interaction or following on Scorum (the last blog appears to have been posted over 3 months ago). However, 2019 is a pretty big year for Rugby Union and with the World Cup set to begin in September, all the major sides will be looking to fine tune their tactics and personnel ahead of that showpiece tournament that takes place in Japan.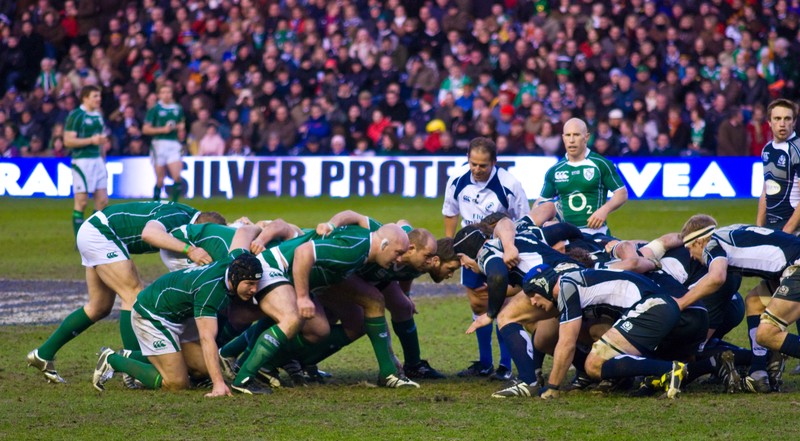 Rugby Union is an autumn/winter sport so for sides in the Northern Hemisphere the next couple of months probably represent the last chance to gain any real momentum going into the World Cup. With that in mind, this Friday sees the start of one of the oldest international sporting contests, The Six Nations Championship. Originally set-up in 1883 as a tournament between 'The Home Nations' (England, Scotland, Ireland and Wales) it soon expanded to include France and then more recently Italy. You don't need to be an expert in European history to know that the rivalries between these nations extend to long before a codified sport or Rugby tournament brought it to your TV screens. We've been fighting each other for millennia and while the bloodshed and war have thankfully stopped, the old grudges are not forgotten. What better way to exact a bit of revenge on a former enemy than by employing 15 of the biggest, strongest and fastest men that your nation can muster and getting them to charge headfirst into the opposition!
Here's a brief overview of the teams involved in the 6 Nations, their home grounds and their anthems.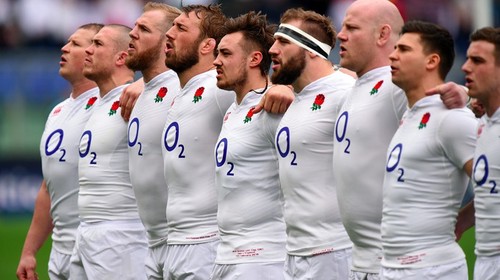 England - We've won the tournament a record 38 times including 2016 & 2017 but last year's Six Nations was an unmitigated disaster as we ended up finishing 2nd bottom. Traditionally a side that has relied on its forward power, England are looking to play a more expansive game these days Stadium - Twickenham Anthem - Swing Low Sweet Chariot
.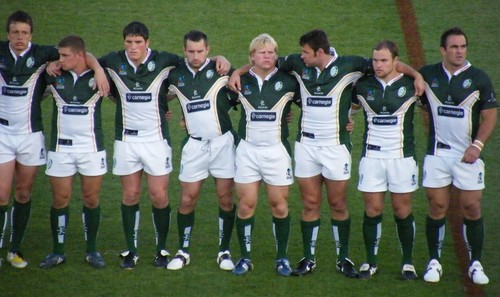 Ireland - Current holders Ireland are warming up nicely for the upcoming World Cup. They followed up their 6 nations success by beating World No.1 side New Zealand and they are favourites to defend their title in 2019. A well-oiled machine, strong up front with a great set-piece. Stadium - Aviva Stadium Anthem - Ireland's Call
.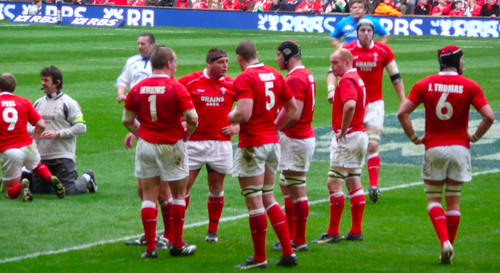 Wales - Being a quarter Welsh I guess this is my 2nd team. I spent a year of high-school in Wales and I can vouch for the fact that Rugby is like a religion there, everyone plays it to some level. Wales start the tournament this Friday with a visit to France Stadium - Principality Anthem - Land of my Fathers
.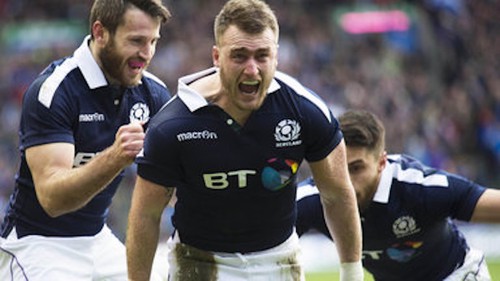 Scotland - Having finished bottom in 2012 and 2015 playing a brand of Rugby that was as boring as it was outdated it's hard to believe that Scotland go into this tournament as arguably the most exciting team to watch. Their turnaround over the last couple of years has been remarkable, can they go all the way? Stadium - Murrayfield Anthem - Flower of Scotland
.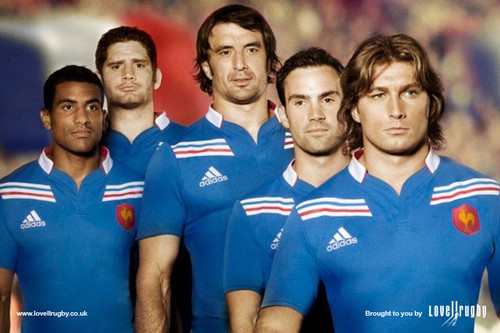 France - Having been such a dominant force at the start of the 21st Century and with arguably the strongest domestic league in the Northern Hemisphere, the French hold the mantel of under-achievers since their last win in 2010. However, like any French sports team, they are always at their most dangerous when underrated! Stadium - Parc des Princes Anthem - Les Marseillais
.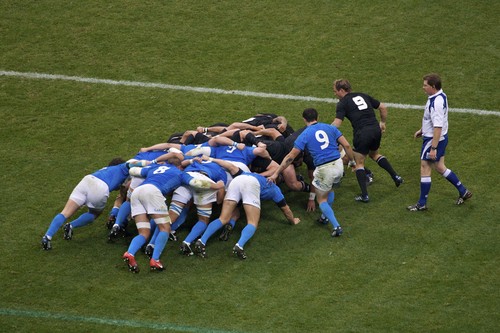 Italy - Last and very much least are the Italians, the only side in this year's tournament who have no realistic chance of winning it. Italy have finished dead last in 13 out of the 18 years in which they have played and it's difficult to see how that won't be 14 out of 19 in a few weeks time. There is no lack of commitment but skill is in short supply Stadium - Stadio OlympicoAnthem - Il Canto degli Italiani
.
---
Positions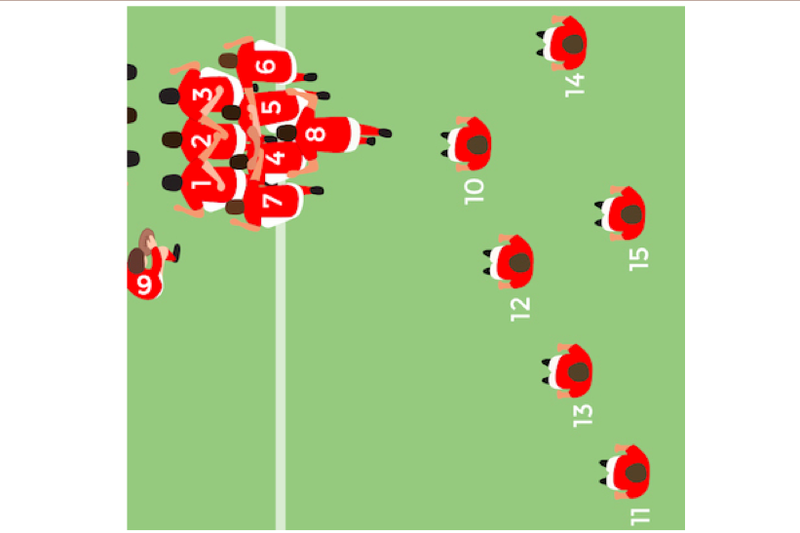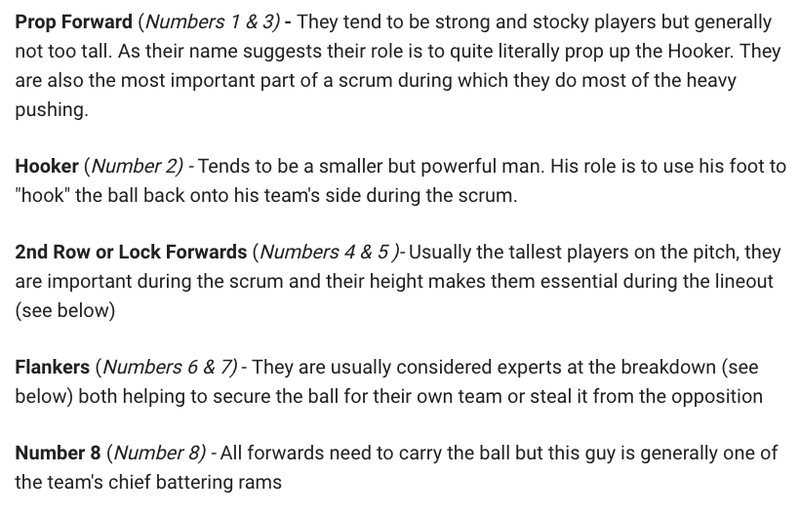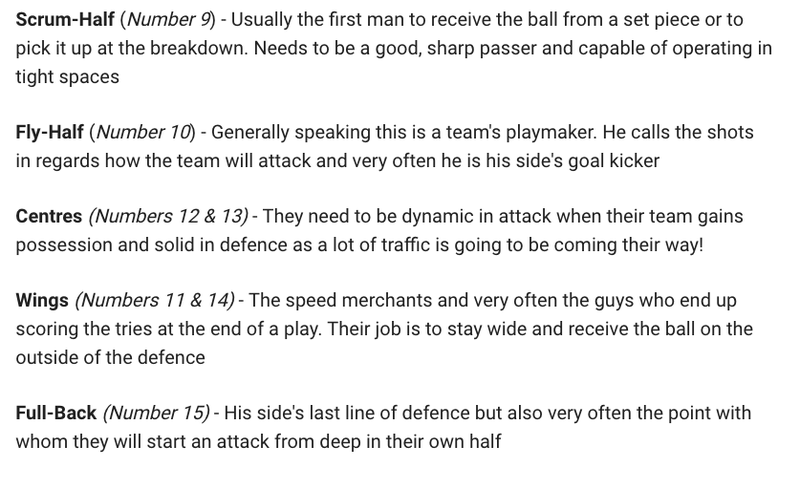 ---
Scoring Points
The primary way to get points in Rugby is to score a try. This involves touching the ball down behind the oppositions goal line. Unlike NFL, the player with the ball must ensure that he places the ball with force onto the ground - simply running over the line isn't enough. A try scores your team 5 points.
Here's a selection of great tries
After a side has scored a try they have a chance of scoring a bonus 2 points by kicking the ball through the goal, this is known as a conversion. The exact position that the conversion is taken from is determined by where the try was scored. This is why you will see most try scorers trying to head for the middle of the goal when they score because that would mean the conversion can be taken from right in front of the posts.
Where a defending team gives away a penalty (see rules below) then the attacking team can choose to kick for goal. The kick can be taken from anywhere on the field although given the dimensions of a rugby pitch it usually means only penalty kicks from within the oppositions half are attempted. A penalty kick scores 3 points

---
Basic Rules
You can only pass the ball backwards - That's right in Rugby you can't throw the ball forwards. You can only make ground towards your opponent's goal by running with the ball or else kicking it forwards. A forward pass or knock-on (where a player drops the ball forward) will result in a penalty or scrum (see below)
You have to remain onside - When a player does kick the ball forward all of his teammates must be behind him at the moment he kicks it. Any player who is in front of the kicker and who tries to play the ball will be deemed off-side. Equally a defending team needs to stay behind the ball at set pieces and the break-down (see below). Being offside will result in a penalty
You can't play the ball when you're not on your feet - Whether you're an attacker carrying the ball or defender making a tackle/looking to steal the ball, as soon as you are on the ground or otherwise not supporting your own weight with your feet then you can't influence play. Playing the ball on the floor or failing to roll away when you're on the ground would result in a penalty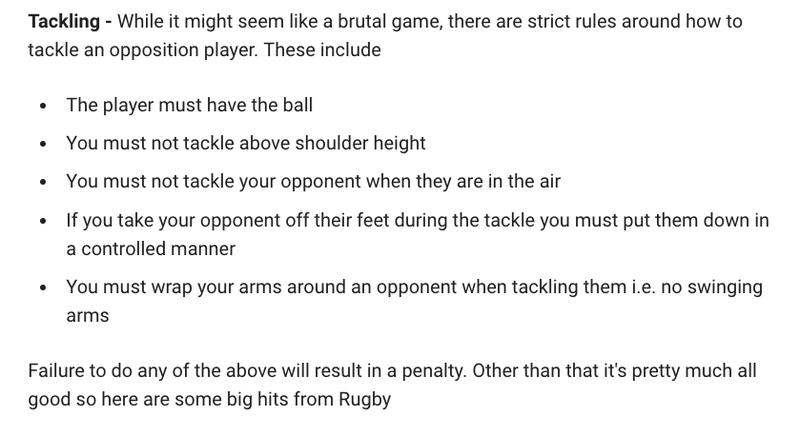 ---
The Break-Down
This is probably the most confusing part of the game of rugby largely because there are so many big bodies seemingly flying into one another without any rhyme or reason. However, there are very distinct rules about what happens when a player is tackled and the phase of one attack breaks-down and another looks to begin. The great thing about Rugby is that the refs all wear mics and you can hear them talking to the players constantly so what you don't know can be learned pretty quickly just by watching and listening.
A Ruck
A ruck is formed when a player is tackled to the ground and both teams then compete to win the ball back. There are very strict rules about how the attacking team can protect the ball and how the defending team can try and steal.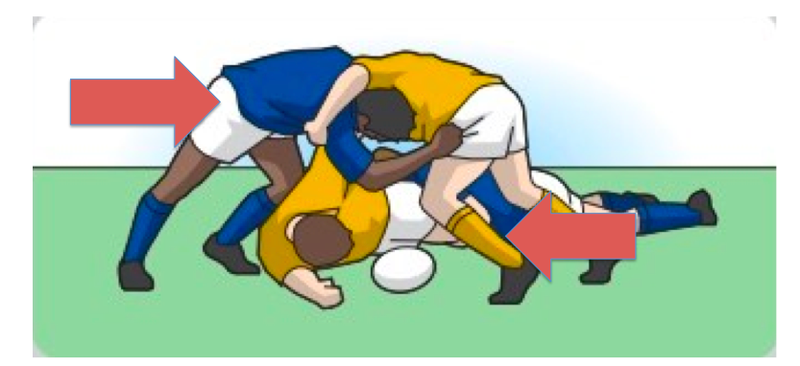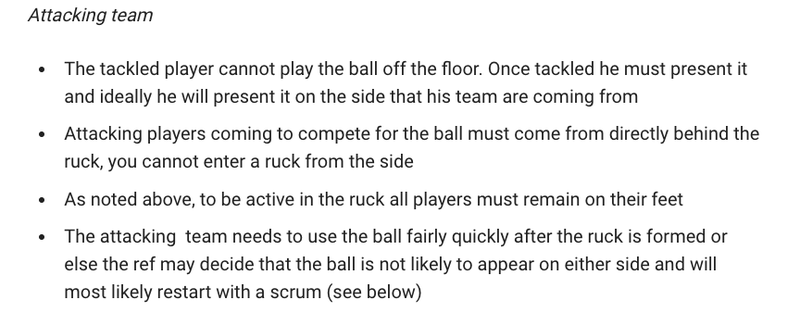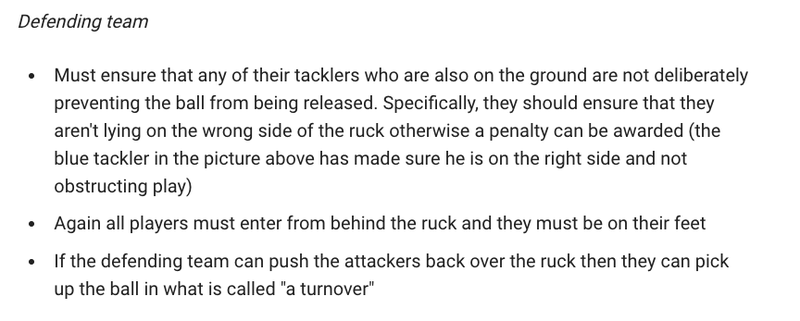 The whole thing is slowed down in the below video with examples of how the attacking team will look to protect the ball and then play it as quickly as possible before the opposition's defence can reset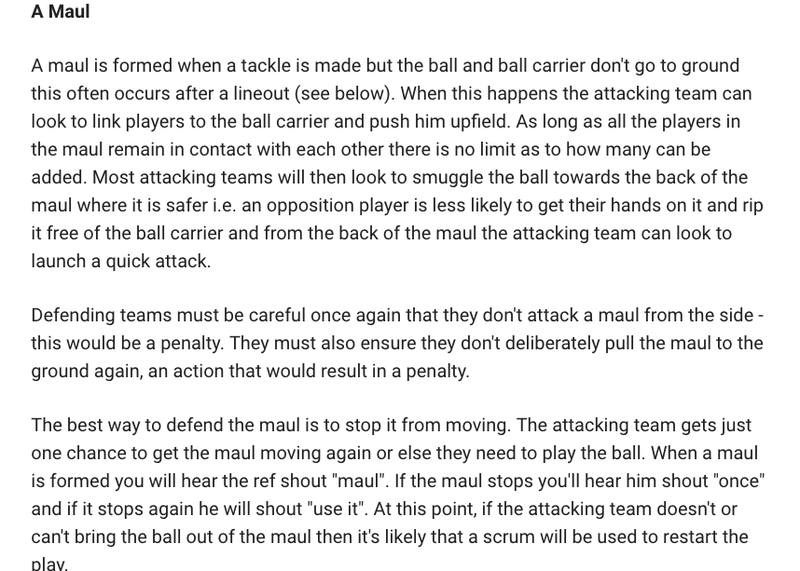 Game Re-Starts
After any score or at the start of a half (40mins each) the game is restarted by one team kicking into the half of the other team. On these occasions, the ball must travel a minimum of 10 meters.
Other means of re-starting the game include
The Scrum
A scrum is generally awarded when the ball does not come quickly enough out of the break-down (see above) or a side makes an accidental error, for example, a knock-on (see above).
The scrum involves all 8 forwards from both teams smashing into each other and looking to push their hooker (see above) over the ball so that he can kick it back onto his team's side.
There are a hell of a lot of complex rules and grey areas around the scrum but as a beginners guide it's just worth remembering that the forwards need to stay down and in position. This is pretty difficult if you are being pushed backwards as can be seen from the video below where the New Zealand All-Blacks keep standing up as a result of intense pressure at the scrum resulting in them conceeding penalties.
The lineout
A lineout occurs when the ball leaves the field of play at the sidelines. It's worth mentioning at this point that where, when and how the ball leaves play determines a lot about the lineout.
You will often see teams who are awarded a penalty kick the ball out for a lineout. They usually do this when either they are too far out to try and kick 3 points or else they want to attempt to get a better field position from where they could score a try for 7 points (try 5 points + bonus 2 points for conversion).
When a team kicks the ball out from a penalty they
Can do so on the full i.e. the ball doesn't have to bounce in play first
Get the ball back at the lineout i.e. they are in charge of throwing it in
If a team looks to kick from open play then it's a bit different and they must ensure that
The ball bounces in play before it crosses the line. If the ball goes out on the full then it's still a lineout but the lineout takes place from where the kicker was standing and not from where the ball left the field. In other words, the team in possession has made no ground!
When a ball is kicked out in open play the attacking team gives up possession. Therefore the team kicking the ball away must weigh up the advantage of a better field position against the fact that they won't have the ball
The team who is throwing the ball in at the lineout can decide how many forwards are in the lineout and the opposition must match that number. The lineout must be thrown straight down the middle so both teams can compete for it but of course, the team throwing has the advantage of knowing how deep the throw will be i.e. will it be a short throw to the front or a long deep throw to the back and it can set up a series of dummy jumpers to confuse the opposition defence.
Skills
While it's important to understand the basic rules, set plays and breakdown what you ultimately want to see in Rugby is a fast flowing open game where the backs get to run and show off their skills.
Here are a selection of those skills and the kind of thing you can hope to see in the upcoming Six Nations
The Six Nations kicks off at 8:00pm (GMT) this Friday with France v Wales which is due to be a very well contested match. However, perhaps the pick of the first weekend is the game of Saturday (4:45pm GMT) between Ireland and England that could go some way to deciding who will be crowned Six Nations champions come March. The atmosphere at all these matches will be fantastic and I would highly recommend trying to catch at least some part of the Six Nations this winter.
I will try and give updates on the 5 rounds as they occur with the best action from the tournament and you can find the full fixture list for the tournament here
https://www.sixnationsrugby.com/fixtures/
I'd also love to see a few more of these posts introducing sports that the community may not be familiar with. Anyone want to write something on Kabadi or Lacrosse? I'd like to get to know those 2 sports :-)
My Experience of Playing Rugby

I myself played at inside-centre for most of my time at school and captained my house team from that position. I wouldn't ever describe myself as strong or quick (i'm built for stamina as opposed to speed) but I do have good, fast hands and pretty decent positional sense.
However, when I was 16 and got called up to the 1st 15 for the first time I came up against this huge monster of a man playing centre for the opposition! I say, man, because he was probably only a year or 2 older than me but had clearly developed in ways that my pubescent body could only dream of at the time! I spent the first 40mins of the game being run over by this guy time and time again. I'll give credit to myself here in that I never shirked a tackle but in essence, it may as well have been as if I didn't exist!
I am eternally grateful to my coach who in his youth had represented England at U-19 level that at half-time he pulled me from centre and put me to the full back position. I've got a feeling if he hadn't done so I may not be here today to write this blog or at least I would be doing so while eating all my meals through a straw. I never went back into the centre position and spent the next couple of years playing at FB where the hits tend to be a little less brutal. Once I reached the age of 18 and after receiving a fair few whacks to all parts of my body I decided that Rugby is a sport that is far better enjoyed from a distance!
All text in images in this blog was written by myself but the plag checker gave me a score of 49% linking my article to this glossary of terms on Wikipedia. I'm not sure how a glossary of terms can be determined as source of anything much other than a string of words out of context and marking my article down makes about as much sense as suggesting that I've copied all the words in this blog from the dictionary!