It was a difficult weekend sportswise - so much to watch and so little time to do it in. All I can say is thank God for TIVO and the fact that the Six Nations is free to air. Still, in this world of interconnectivity, it has become increasingly difficult to disassociate yourself from what's going on around you.
As with every Saturday lunchtime, I took my eldest boy (6 years old) to his football practice/game - another successful session as he scored 2 goals and got the player of the match award. Still it meant that I would miss the beginning of the Scotland v Ireland match so I set my box to record it alongside a mental reminder to not be tempted to look at any sports site for fear that I might catch a glimpse of the score. Everything was going so well until on the train back home a woman got on the same carriage as us and started watching the rugby live on her phone. The glow of the screen and movement of the players was calling to me like a siren drawing sailors towards their watery graves but thankfully I regained my composure and spent the remainder of the journey staring out of the window.
Similarly, on Sunday, we were out for lunch with friends who thankfully have no interest in the Rugby. So once again I set my TIVO to record, headed out and this time being as it was the England match I actively switched off almost all my social media accounts for fear that someone would try and spoil the surprise. We left the house after a nice meal and drove back home in silence - I wasn't about to let a stray radio report spoil the excitement for me! My Dad who had also been out and missed the game came over to watch with me and while I had prepped him for the fact that I didn't know the score and didn't want to know it before watching the recording, what I hadn't banked on was who might be trying to communicate with him. My sister was the culprit on this occasion sending him the simple text "did you watch the rugby?". Now I know she didn't exactly reveal the score in this instance but I think reading between the lines one would generally assume that your team did fairly well or else they did very badly and you are dealing with someone with passive-aggressive tendencies which my sister does not usually exhibit. Anyway, lesson learned - clear the diary for all future Six Nations weekends!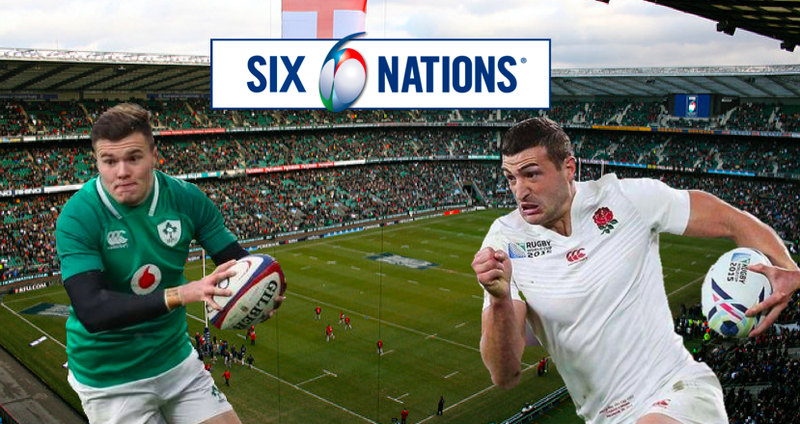 Ireland hold the Scots at arm's length
As mentioned last week, I was really looking forward to this match and the fact that Ireland had lost their opening game added an extra bit of spice to an occassion that saw some monster hits throughout the 80mins. Both sides were guilty of laying a few over the top blows on the opposition's star players with Scotland's elusive full-back Stuart Hogg cynically taken out by a late tackle with just over quarter of an hour gone and Irish playmaker Jonny Sexton getting a good number of solid thumps for his troubles too - neither player made it past the half hour mark .......
Scotland obviously wanted to get off to a quick start by getting their talented half backs, three-quarters and a fired up home crowd into the game. However, their desire to throw the ball around at the back lead to them conceding an opening try as wings Maitland and Seymour got themselves in a tangle that allowed Connor Murray to nip in and score. Rather than overplaying it at the back perhaps the Scottish defenders would have been better off just taking the tackle and looking to reset from deep but that kind of thinking doesn't seem to exist within Gregor Townsend's Scotland side.
Ireland's 2nd score was a peach of a try involving the vision and bravery of Jonny Sexton who popped up a lovely little ball on his inside before getting hammered to the floor once more and also for the timing and angle of the run from Stockdale who came off his wing to burst through the midfield. I guess from Sexton's point of view if you know the opposition is out to hit you then you also know that those kind of gaps are going to open up in the defence. However, having the mental strength to remain calm and make that split-second decision while all the while knowing you're about to be hit by the equivalent of a human bulldozer does show what a high-quality player Sexton is.
Thereafter it was Ireland's turn to get a bit sloppy and offer Finn Russell the chance to prove that whatever Sexton can do he can match. While not having the raw pace to finish off his interception, he did show the awareness and presence of mind to pop the ball up to Johnson who completed a try that sent Murrayfield wild. From then on the wind was very much in the Scottish sails and the home team looked dangerous every time they entered the final third but try as they might the Irish defence stood firm. Credit has to go to Ireland, their organisation, willingness to put their bodies on the line for the cause but also their ability to finish chances when they came along saw them get into half-time 2points ahead despite the fact that they were outplayed for large parts of the 1st half.
You felt that the next score in the game would be crucial and it came to Ireland courtesy of another Scotland error. This time a missed tackle in the midfield led to a break upfield and a fairly routine try for Earls. From then on while you can't fault Scotland for their effort you always felt as though Ireland were comfortably holding them at arm's length. The Scots had a reasonable amount of ball but it's difficult to remember them really threatening the Irish try-line in the way they did in the final 15mins of the first half such was the defensive dominance of Ireland and their superior kicking game that pended Scotland back in their own half for large parts of the 2nd half.
For Scotland it is another case of "what if" as they look back on a defeat against one of the best teams in the world to whom they gifted a couple of soft tries. As for Ireland it was very much business as usual as they bounced back from the England defeat with a defensive display that will have pleased coach Joe Schmidt and reestablishes their credentials to defend their championship.
England's kicks breach the Maginot Line
I could go on with the war references all post but let's leave them for now and concentrate on another classy display from England against a French side that looks somewhat shellshocked (ok that's the last one).
I'd mentioned last week that I didn't think that the French would particularly mind if England brought a hard-hitting battle between the forwards to Twickenham on Sunday afternoon. The French have some absolute monsters in their 15 and in picking the likes of Bastareaud in the centre the average size of the visitors only increased from their opening fixture with Wales. However, England were smart enough not to go head to head with such players and instead relied on a series of chips and kicks through that caused havoc in the French ranks for the entire game.
An early try to upset an already fragile French team still fresh from their 2nd half capitulation in Paris last week was just what England wanted and Jonny May duly delivered. A lose ball was picked up by Elliot Daly and his sithing run into the French half resulted in a kick into space for May who looked like he was running on one of those airport travelators while the French defence meandered along on the tiled floor beside dragging a series of overpacked suitcases.
England continued to poor forward in attack and after the big men had had a go at stampeding over the line, it was left once again to the backs to show their worth. Owen Farrell spotted an overlap out wide and floated a long pass to Jonny May who did a rendition of the hookey cookey before diving in for his 2nd of what was becoming a very good afternoon for him. However, the England winger wasn't finished there! More lose handling by the French presented the ball back to England and this time it was Chris Ashton who probably decided to wander in-field and get some of the action that his opposite wing May was enjoying on that side of the pitch. He was on hand to kick another ball through that allowed May to complete his hattrick in less than 30minutes.
England were then perhaps guilty of assuming that the French were there for the taking and a series of errors including giving up possession and a couple of missed tackles allowed France to score and maintain a fingertip grip on the English shirt tails. However, any fears of a French revival were put to bed before half time as yet another kick in behind saw the French defence breached and this time prop forward Sinclair was on hand to send a looping pass out to Henry Slade who side-stepped his way to another try in this tournament.
Had the scores have been a little closer then the incident that followed may have courted a bit more controversy. You won't be surprised to hear that once again England attacked via a kick in behind the French and the luckless Chris Ashton found himself chopped down just when it looked like he might join in the scoring. For me, he was certainly taken out without the ball but whether he would have gathered it and then scored is another question. Anyone who has played rugby will know that the egg-shaped ball does funny things when it hits the ground and to me it looked like it may have been bouncing back behind Ashton just as he was taken out. Still, the ref disagreed and awarded England a penalty try as well as yellow carding the French defender.
England completed their scoring after Jonny May was sent through again by a grubber kick but this time (for once) a defender did provide sufficient cover to prevent the flying winger getting a fourth try though unfortunately, they could only succeed in palming the ball on for the on-rushing Owen Farrel who tapped down to take England past the 40 point mark with 25 mins still to play. From there you wondered just how ugly this might get for the French but in all honesty, both sides may as well have shaken hands at the hour mark and gone off for a nice long bath such was the apathy with which the final quarter was played.
England now sit atop the table on 10 points having gained yet another bonus point for the conviction of their win while the French lie 2nd bottom having scored the least number of points while simultaneously conceding the most - worry times for them indeed!
Wales v Italy
Again, no offence to Italy but with the cricket on the other side, I was never likely to watch what was a fairly routine win for Wales. That victory now sets up the next game between Wales and England with the winner knowing that they would be within touching distance of the Six Nations crown. Elsewhere, Scotland will have to regroup as they look to get their own title push back on track with a visit to struggling France. While Ireland would expect to take advantage of Wales and England syphoning points from one another with what should be a routine win in Rome.