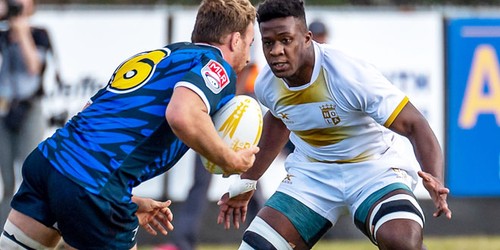 By Zane Miller
The Saturday matchups for MLR 2020: Virtual saw six games take place, with the Austin Gilgronis and New Orleans Gold continuing their undefeated streaks so far this season.
The Gold were represented by forward Malcolm May, while the Arrows were represented by back Ben LeSage. New Orleans jumped out in front with a 15-5 halftime lead, which they followed in the second half as the Gold went on to win 29-10.
The Warriors were represented by forward Alex Tucci, while the SaberCats were represented by back Kieran Farmer. It was the Warriors who took a 10-5 lead at halftime, before pulling away with 21 unanswered second half points to take a 31-5 victory.
Old Glory DC was represented by back Renata Roberts-Tenana, while the Free Jacks were represented by back Oliver Engelhart. New England claimed the lead at halftime, up 19-14, before Old Glory DC pulled ahead in the second half to win 28-26.
The Raptors were represented by back Mika Kruse, while the Gilgronis were represented by back Will Magie. A tight first half saw Austin take a 10-0 halftime advantage, while the second half went scoreless as the Gilgronis held on to take the 10-0 victory.
Rugby ATL was represented by forward Duane Aholelei, while back Will Leonard took the controls for Rugby United New York. A tightly contested first half saw New York grab the lead 5-0, however Atlanta retook the lead late in the second half with a try and the eventual game-winning conversion for a 7-5 victory.
The Seawolves were represented by forward Brad Tucker, while the Legion were represented by forward CC Mahoni. Unlike the previous match, this match was not at all close with the Seawolves leading 21-0 at halftime, then keeping the shutout going into the second half as they went on to take a 47-0 victory to avenge their 50-0 loss from last Thursday.
Follow me on Twitter: https://twitter.com/Zmiller_82