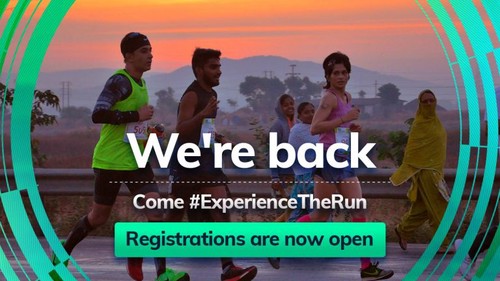 It was a dream debut for track runner Kheta Ram of Pune's Army Sports Institute (ASI), who set a new course record while winning the men's full marathon in the 5th Vasai Virar Mayor's Marathon on Sunday.
The 33-year-old Ram defied the humid conditions to complete the 42-km race in an impressive time of 2:22.32, which was 6 seconds better than the previous meet record of 2:22.38 set by last year's champion Neeraj Pal. Girish Tiwari of Air Force, Bengaluru, with a time of 2:28.01, clinched the second place ahead of Sunil Prasad, who was placed third with a time of 2:29.20. Rajasthan-based Ram, who had finished second in the half marathon last year, was pleased with his victory on debut. "I have happy to win in my first big race and it gives me lots of confidence for the future," he said.
He said the reason for his switch to the full distance was to prepare for the Mumbai Marathon in January so that he could try and meet the Rio Olympics qualifying time of 2:17. "I earlier concentrated on track and field events, but since I have not been doing well in my main event (5000 metres), I and my coach decided to do the half marathon for the past couple of years. I have now switched to the full marathon as I want participate in the Mumbai Marathon and hope to meet the Olympic qualifying mark."
am's teammate Man Singh made it a memorable outing for ASI by winning the top honours in the men's half marathon. The 26-year-old Uttarakhand athlete beat back the challenge from second-placed Srinu Bugatha (Army, Hyderabad) to finish in 1:06.37, 17 seconds faster than the Hyderabad runner. Balliappa A B (Army, Bangalore) took third place in 1:07.03. Swati Gadhave of Central Railway, Pune won the women's half marathon with a time of 1:18.35. In second place was Rohini Raut of Nagpur (1:19.24) and Nashik-based 23-year-old Monika Athare of LIC grabbed the third position (1:20.36). The full marathon winner, Ram went home richer by Rs 2.50 lakh, while Tiwari and Prasad received a cash award of Rs 1.25 lakhs and 75,000, respectively. The half marathon winners, Swati Gadhave and Man Singh, both received a cash prize of Rs 1.25 lakh each.
Results:
Full Marathon (Men): 1. Kheta Ram (Army Sports Institute, Pune) 2:22.32; 2. Girish Chandra Tiwari (Air Force) 2:28.01; 3. Sunil Prasad (2:29.20). Full Marathon (women-amateur): 1. Seema Varma (4:01.59); 2. Kushboo Vaish (4:24.04); 3. Preeti Rohinton Lala (4:44.05).
Half Marathon (men): 1. Man Singh (ASI, Pune) 1:06.37; 2. Srinu Bugatha (Army, Hyderabad) 1:06.54; 3. Balliappa AB (Army, Bangalore) 1:07.03.
Half Marathon (women): 1. Swati Gadhave (Central Railway, Pune) 1:18.35; 2. Rohini Raut (Nagpur) 1:19.24; 3. Monika Athare (LIC) 1:20.36. 11km Run (Men): 1. Shailesh Gangoda 35.47; 2. Amit Bhagwan Mali 36.03; 3. Amol Sanpal 36.30. 11km Run (Women): 1. Saigeeta Naik 42.06; 2. Swapnali Mahagaonkar 54.21; 3. Vaishali Chintu Gujar 59.21.