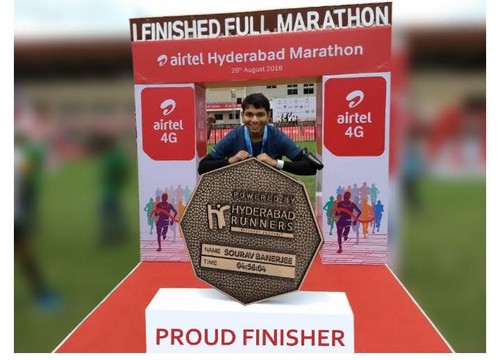 MY SON Sourav Banerjee, PROUD FINISHER 43 KM MARATHON AT AIRTEL, HYDERABAD,INDIA 2018 on 26th August, 2018. It was my incredible benefit to watch my child, SOURAV BANERJEE partaking in AIRTEL HYDERABAD MARATHON 2018 held at Hyderabad. He participated in the Full Marathon (42.195 kms) hailed off by Commissioner of Police, Hyderabad, Anjani Kumar. It was his outstanding amongst other Marathons, he had gone so far. He finished his full Marathon with 4.56.04 timings. He was congratulated with a dazzling Medal. I was truly feeling myself awesome, being a glad mother.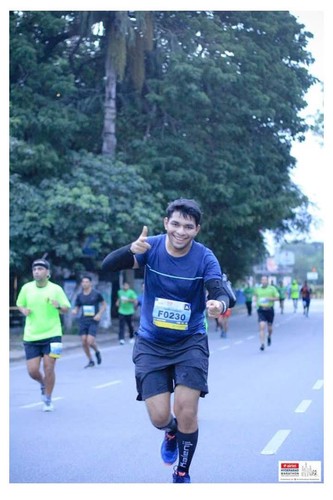 It is the second greatest Marathon in India after MUMBAI MARATHON and had the hardest Marathon course (covering 5 flyovers). The track course was from Hussain Sagar to Gachibowli Stadium, where in excess of 22,500 sprinters had taken an interest. This was the eighth release of Airtel Hyderabad Marathon 2018.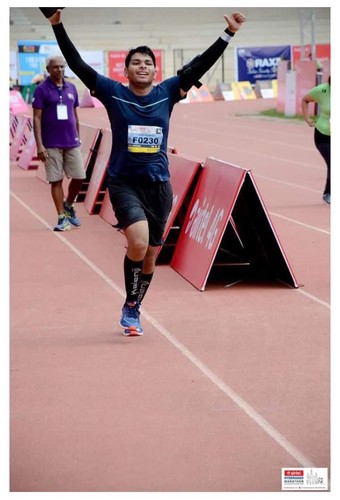 Administration and the volunteers were awesome. There is such a long way to go promotion involvement in the realm of running. You get the chance to see old and youthful running and advancing toward incredible success.People from various age and classes take part in these occasions, this influences the youthful and new sprinters to feel spurred and set long haul focuses in these exercises. Additionally, once individuals have ventured out enrolling and taking an interest in Event, this influences them to adopt another strategy towards sound life and living.